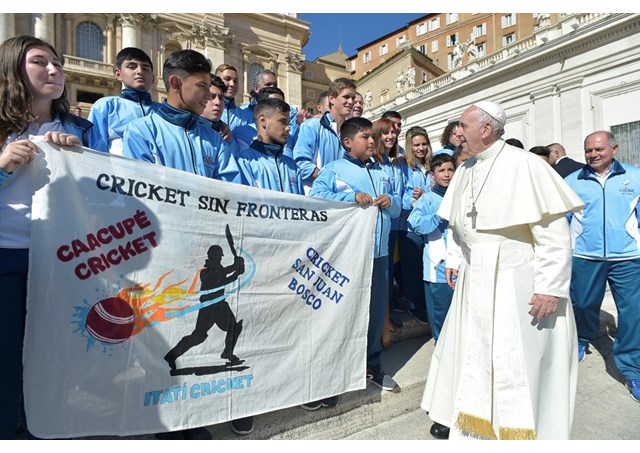 (Vatican Radio) Cricket is not a sport normally associated with Argentina, but among the groups greeting Pope Francis at his general audience on Wednesday was a team of young cricketers from his native Buenos Aires.
Cricket Sin Fronteras (Cricket Without Borders) is a project that was begun almost a decade ago in the poorest parts of the capital,  the 'villas miserias' where the Church is engaged in offering alternatives to the widespread violence and crime. Though few Argentinians were familiar with the sport, its popularity has grown and now hundreds of kids, both boys and girls, take part in the project.
This week a team of young players was invited to play against St Peter's Cricket Club, set up under the auspices of the Pontifical Council for Culture and comprised mainly of seminarians studying for the priesthood here in Rome.
The cricketers attending the audience in St Peter's Square had brought with them bats to be blessed, made by inmates from a local jail. The organisers insist that through the sport, youngsters learn values of respect, inclusion and teamwork that will enable them to build a brighter future. Among them is the team's head coach, Hernan Fennell, who talked to Philippa Hitchen about how the project began:
Fennell explains that the idea was proposed in 2009 to Fr Pepe [Di Paola], one of the best known Catholic priests working in the poorest areas of Buenos Aires. Among the founders of the project was Daniel Juarez, a longtime friend of Jorge Bergoglio, who was on hand in St Peter's Square to tell him more about the initiative.
Example of inclusion
Pope Francis blessed the team and encouraged them to "keep it going, really, it's an example [of inclusion] for all of us".
Fennell explains that the project began with just four or five kids from the poorest part of town. As it became more popular, the team needed to find more coaches and it has recently been rolled out in state schools as well. Almost 800 boys and girls, aged between six and twenty, are now learning to play the sport
Teaching spirit of cricket
Among the major challenges, Fennell, goes on, it the difficulties of teaching 'the spirit of cricket' to those living in a football culture. If we can make that spirit better known, he says "it'll be a huge win for us".