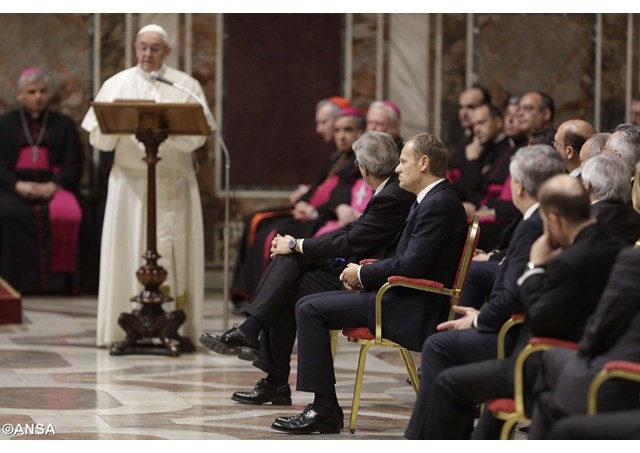 (Vatican Radio) 'Rethinking Europe' is the title of a three day conference taking place at the end of October, bringing political and religious leaders together for an in-depth dialogue here in the Vatican.
The encounter, which has been organised by COMECE, the Brussels-based Commission of the Bishops' Conferences of the European Community, opens on Friday 27th. The discussions will conclude with a papal audience the following day, while on Sunday 29th participants will attend Mass in St Peter's Basilica.
The event has been timed to coincide with the 60th anniversary of the signing of the Treaty of Rome, which inaugurated the European integration process back in 1957.
Dominican Brother Olivier Poquillon is the Secretary General of COMECE. He talked to Vatican Radio's Olivier Bonnel about the aims of the conference:
Poquillon points out that while politicians and bishops may meet each other in the street, or at the supermarket, they hardly ever enter into dialogue about important issues.
Church at heart of public policy making
But, he insists, the Church doesn't want "to be kept in the sacristy", rather it wishes "to enter into the heart of public policies, to put at the heart of those policies the human being".
Pope Francis to challenge participants
Poquillon says participants are expecting to be challenged by Pope Francis about shared responsibilities, in terms of ecology, economics, or other policies. While the Church is "not the best expert" in economics and will not tell politicians what they must do, he adds, the Church "can  highlight elements which are in favour of humanity".
COMECE has invited politicians including Frans Timmermans, first vice-president of the European Commission, Pat Cox, former president of the European Parliament, as well as the current president Antonio Tajani.  
Finding solutions for today's challenges
"We are all embedded in this process of dialogue", Poquillon says, so the conference is not designed to benefit the Church or the politicians, but rather its goal is "trying together to reach solutions for the challenges we face today".