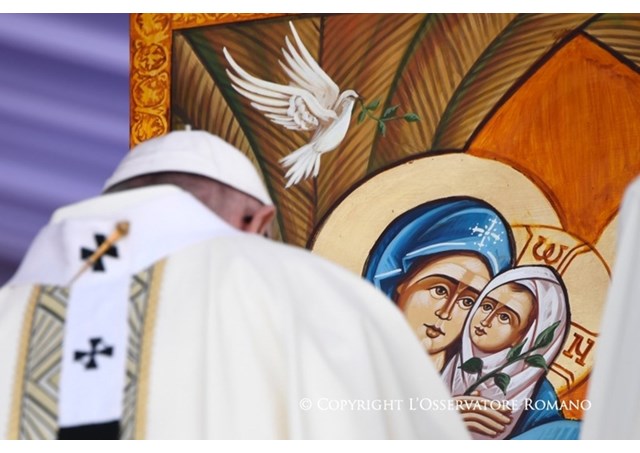 (Vatican Radio)  Pope Francis on Wednesday had a special greeting for an Egyptian delegation led by the country's Tourism Minister, in Rome to promote a pilgrimage in the footsteps of the Holy Family's flight to Egypt.
Speaking during the Wednesday General Audience in St. Peter's Square, the Pope recalled his Apostolic Journey to Egypt last April saying that he has fond memories of the visit.
He said Egypt is "a land where Saint Joseph, the Virgin Mary and the Baby Jesus, as well as many prophets lived: a land that has been blessed with the precious blood of martyrs spilt throughout the centuries".
And describing Egypt as a land of cohabitation and hospitality; a land of encounter, of history and of civilization, the Pope imparted his blessing on Egyptians and prayed the Lord to protect the nation, the Middle East and the whole world from all kinds of terrorism and from evil.
The Pope also blessed an icon that represents the Flight of the Holy Family to Egypt.
The Egyptian delegation, led by the Minister of Tourism Yahya Rashed, is meeting with tourism officials in Rome in an effort to promote the Holy Family in Egypt route as an important  pilgrimage destination.       
In a statement before the visit Rashed said it falls within the framework of Pope Francis's fruitful visit to Egypt. It also comes within the framework of the importance attached by the Tourism Ministry to religious tourism.
The pilgrimage route takes pilgrims to eight different places that are meaningful to the Holy Family during its flight from Herod's persecution or during its return to the Holy Land.
It starts in the city of Al-Arish (North Sinai), crosses to the Eastern Delta of the Nile, and reaches Wadi Natroun, home to four important Coptic monasteries.
By reviving the pilgrimage, the government hopes to breathe new life into the tourism sector badly damaged by the 2011 revolution.
It also represents government support for Egypt's Christian minority.