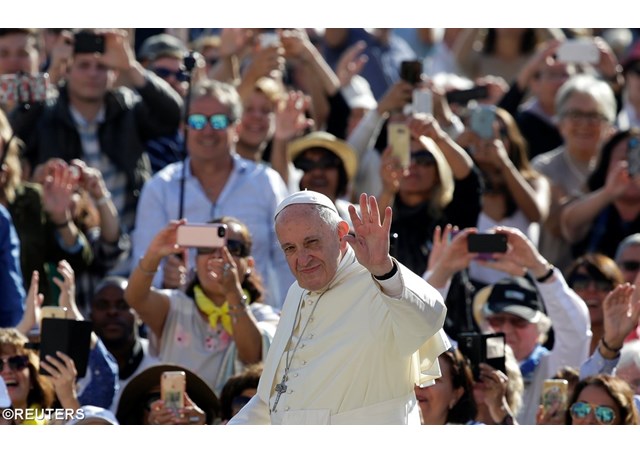 (Vatican Radio) In a sunny St Peter's Square on Wednesday, Pope Francis during his General Audience didn't disappoint those pilgrims who had come to hear his continuing catechesis on Christian hope. This week the Holy Father turned his attention to the Christian's calling to be a missionary of hope.
Listen to our report:
Example of St Francis
As an example, he chose a great Saint of the Church and his own namesake St Francis, whose feast day is celebrated on October 4th, calling him "a true missionary of the joyful hope born of Christ's victory over death…"
He went on to says that, "Jesus asks us to be witnesses of that same hope, confident in the transforming power of his Spirit at work in our hearts and in our world.  Joy, the Pope underlined, " is the sure sign of true Christian hope, but he also noted that, there are times when the gift of hope proves costly. 
Persecuted Christians
The Holy Father was referring to "fellow Christians who presently experience persecution" and all the martyrs down through the centuries. He said that, "their witness inspires us to continue to hope in Christ's promises.  As missionaries of hope, may we rejoice in God's saving power, never lose heart, and help others to look to the future with confidence."
The Pope noted that the task of Christians in this world is to open a space for salvation, adding that, "when the sky is cloudy, it is a blessing for those who know the sun."
Behold, the true Christian is this, said Pope Francis,  "not complacent and angry, but convinced, by the strength of the resurrection…"
Middle East
Concluding his Audience the Holy Father greeted all the English speaking pilgrims present and in words to visitors from Egypt, the Pope prayed that the Lord would bless them and protect their country, the Middle East and the whole world from all evil and terrorism.