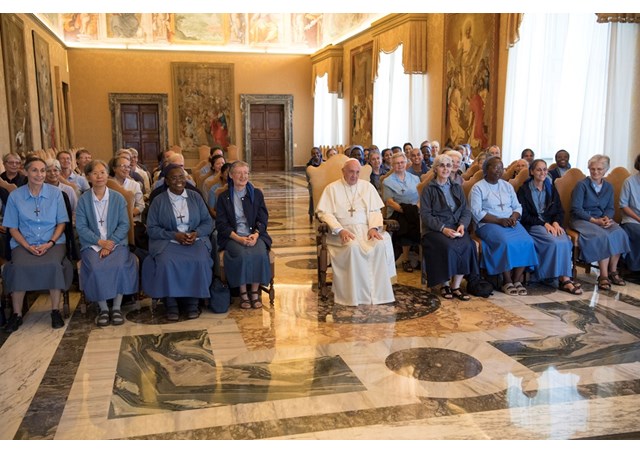 (Vatican Radio) Pope Francis received the participants in the General Chapter of the Little Sisters of Jesus on Monday in the Apostolic Palace at the Vatican. The Little Sisters are a religious community founded by Little Sister Magdeleine of Jesus (née Madeleine Hutin) in 1939 on the spiritual inspiration and charism of Bl. Charles de Foucauld (+1916).
Originally a missionary order of sisters ministering to nomadic peoples on the outskirts of the Sahara, the Little Sisters now have a presence in sixty-three different countries, living in small communities – often of no more than three or four members – and ministering to the poor and marginalized by sharing their day-to-day lives and living conditions.
They often stay in rented housing and take ordinary jobs in inner-city neighbourhoods and poor rural areas, as well as among nomadic people.
Their spiritual ethos calls them to live among those who are not reached by other Church ministries, or whose daily lives are marked by division, racism, poverty, or violence.
In his remarks to the General Chapter on Monday, Pope Francis said, "Do not be afraid to go forward, carrying with yourselves the little baby Jesus in your hearts, going into all the places in which the littlest of our world find themselves."