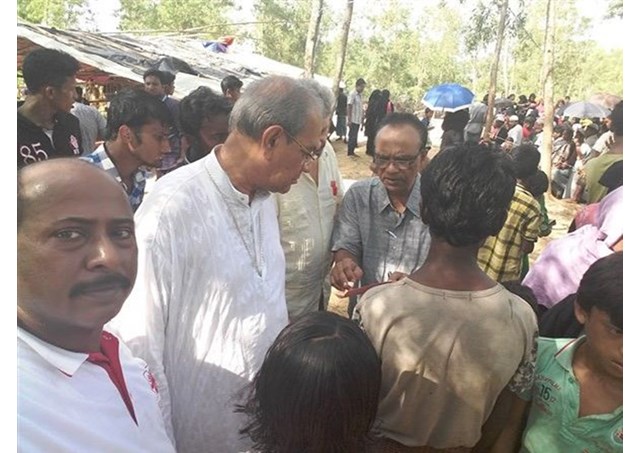 The Church can be a "field hospital" said Card D'Rozario of Bangladesh, responding to the plight of the Rohingya, whose cry he said is that of humanity, in a message released on Tuesday.
The message comes after the Archbishop of Dhaka, who is Bangladesh's first cardinal visited the Tumbro and Ghumdhum camps on 24, 25 Sept. He said that charity is the first and foremost concern in settling the current situation, which sees Myanmar's persecuted Muslim minority in full flight from Rakhine State to avoid the violence perpetrated by the Myanmar military and the Arakan Rohingya Salvation Army (ARSA ).
Bangladesh he said, has not only opened the borders but also opened the hearts with love and compassion to the children, women, old, the sick, the wounded and even the thousands who are unborn. To him it is an example of motherliness to humanity which is manifested by the Prime Minister of his country, Sheikh Hasina, as well as by the people. Bangladesh out of her poverty is sharing her richness of human values, the treasure of their culture he added. Doing so they wish to make the world aware that we need to turn to humanity without having the need of any political, religious, ethnic and historical calculations.
Having heard the cries of the suffering Rohingya and seen their misery the Catholic Church in Bangladesh he said , through Caritas Bangladesh as NGO, is waiting with urgency for the permission of the relevant government agencies, to quickly go to the area, be with the victims and respond urgently by providing food, clothing, water and medicine for their survival, and most of all to provide companionship of love and compassion to the brothers and sisters in need.
The Cardinal who visited them in their camps wanted to be with them, to share in his own way, their pain and then, to prepare a way for Caritas to go to serve them.
During his visit the Cardinal also met with Md Ali Hossain, deputy commissar of the district of Cox's Bazar, one of the most affected by the humanitarian emergency, and handed over 1 million taka (about 10,200 euros) collected by the Catholic Church in donations. He has confirmed a greater commitment by Caritas Bangladesh, which through Chittagong's offices is already delivering relief and first aid.
So far at least 420,000 Muslim refugees have fled Myanmar for Bangladesh.