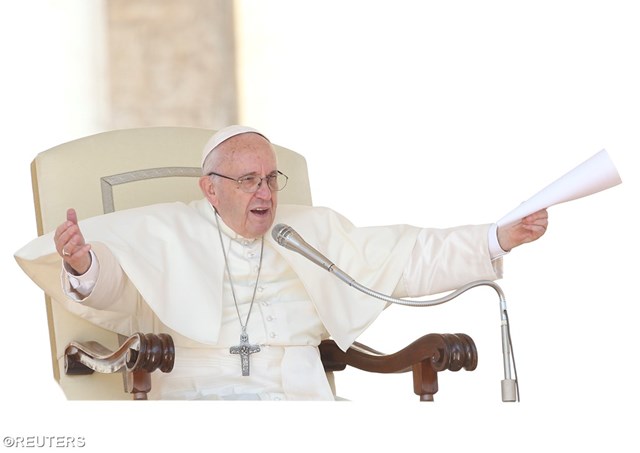 (Vatican Radio) Pope Francis on Wednesday urged governments and all men and women of goodwill to welcome migrants with open arms and share in their plight as Jesus did.
Speaking to the crowds gathered in St. Peter's Square for the weekly General Audience, the Pope launched a 2-year campaign of action and awareness raising that aims to promote a culture of encounter and to encourage people to receive migrants and refugees with open hearts and minds.
The campaign, entitled "Share the Journey" is promoted by Caritas Internationalis. 
"Brothers, don't be afraid of sharing the journey. Don't be afraid of sharing hope" Pope Francis said.
His appeal to replace prejudice with tolerance was enmeshed in his continuing catechesis on Christian hope during which he reflected on the importance of combatting all that threatens our hope.  
And pointing out that it is hope itself that motivates so many of our brothers and sisters forced to leave their homes in search of a better life, Francis said that hope is especially the virtue of the poor.
"God came into this  world among the poor, to bring the good news of our salvation" he said.
And appealing to Christians to never allow themselves to be robbed of hope, he said that hope is also the virtue of the young who risk being deprived of it by an often soulless and materialist society.
Pope Francis concluded reminding the faithful that we are not alone in our fight against desperation and spiritual emptiness: "if God is with us no one will rob us of that virtue which is necessary to look to the future: no one will rob us of hope".