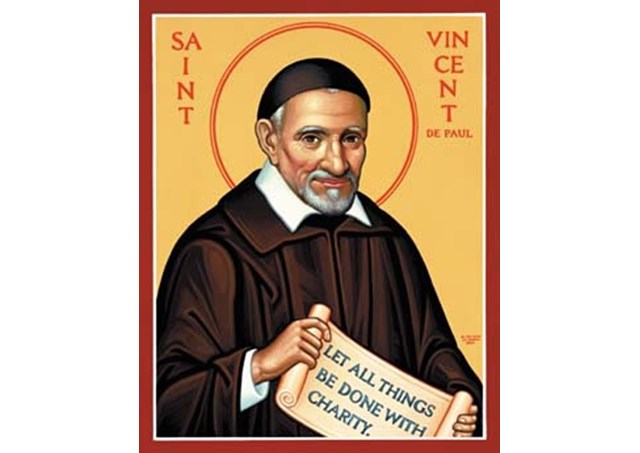 (Vatican Radio) Pope Francis sent a message on Wednesday to members of the Vincentian family to mark the fourth centenary of their foundation by French priest Saint Vincent de Paul.
In 1617, Fr Vincent began his work among poor, farming families, supported by a group of wealthy Parisian women known as the Daughters of Charity. They collected funds for missionary activities, for the founding of hospitals, to support victims of war and to ransom galley slaves who were returning from North Africa.
Thanking the members of the Vincentian family for the work they do today among the most marginalized people, Pope Francis recalled that throughout his life, Fr Vincent de Paul was always searching for the presence of God in the lives of the poor.
Simplicity and generosity
By dedicating his life to bringing the message of God's love to those most in need, the pope said, Fr Vincent inspired others to follow in his footsteps. He paid particular attention to the formation of priests, urging them to model his method of simplicity, generosity and a natural life style.
Co-foundress Luisa de Marillac
That "mustard seed" of the Daughters of Charity which he founded four centuries ago, the pope said, has grown into "a great tree" of the institutes and organisations which make up the Vincentian family today. He recalled in particular Vincent's "prophetic intuition" of drawing on the spiritual gifts and sensibilities of the family's co-foundress, Luisa de Marillac.
Find Jesus in the poor
Pope Francis said he hoped that in this year of celebration, members of the Vincentian family may deepen this charism of their founders, while returning to the source of grace which is Jesus, encountered in the poor and voiceless. You are called to reach out to the peripheries of the human condition, he told them, to be seeds growing on hard ground, to bring consolation and love to hearts that are hardened by neglect and abuse.
Transform society
Saint Vincent speaks to us all today, the pope said, inviting us to be on the move and open to the Lord's surprises. He calls us to live in communion, freeing ourselves from complex language, self-serving rhetoric or attachment to material things. Like him, we must learn to transform our societies, investing in formation and living in close contact with those who suffer most.
World Day of the Poor
Finally, recalling the first World Day of the Poor, which he has called for on November 19th, Pope Francis said we must learn to touch the flesh of Christ in those who suffer. Trusting in God, he said, may we become concrete signs of the love of Christ for all those most in need.