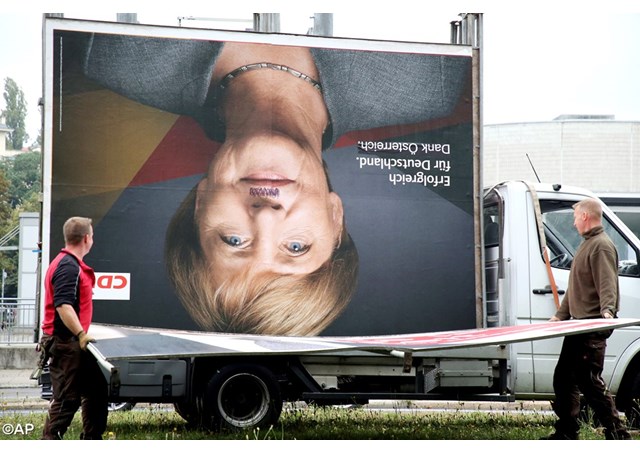 (Vatican Radio) German Chancellor Angela Merkel says she wants to win back voters as a far-right party has entered the national parliament for the first time in over half a century. Merkel spoke after her conservative CDU/CSU alliance recorded its worst result in almost 70 years, winning 33 percent of the vote, short of an outright majority. The outcome of Sunday's vote will lead to severe tough talks.  
Listen to the report by Stefan Bos:

She wants to govern with the Social Democrats, but they have refused. The party, led by her rival for the top job Martin Schulz, tumbled to a mere 20.5 percent.
German Chancellor Merkel, set for a fourth term in office, faces a rocky road ahead. She says she wants to talk to the Social Democrats following Sunday's elections.
But they have already ruled out another coalition with Merkel. That means she may turn to the liberals and Greens to form a new government for the next four years.
OTHER LEADERS
Like other party leaders, Merkel has ruled out a coalition involving the far-right and anti-migration Alternative for Germany, or AfD party. The AfD won some 13 percent of the vote and gained its first ever seats in parliament as the third largest political force in the country. 
Speaking in Berlin, Chancellor Merkel made clear she realized that many voters left her CDU/CSU alliance amid tensions over her open door policies towards refugees.
She said that winning back voters who turned to the AfD was one of the 'big' challenges she faces in her chancellorship. Merkel told supporters: "We will conduct a thorough analysis since we want to win back the AfD's voters by solving problems, by accepting their concerns and listening to their fears. But, above all else, with good policy." 
Chancellor Merkel, who has held the post since she was first elected in 2005, will face a Parliament where the far-right AfD wants to launch a tough debate on the influx of migrants fleeing war, poverty, and persecution.
In rhetoric that critics would compare to the Nazi-era, AfD co-founder  Alexander Gauland told supporters that Germany belongs to the German people. "We will hunt them down," he said while speaking in a Berlin nightclub. "We will hunt Mrs. Merkel or whoever it is down and we will return our land to our people," he added, prompting loud applause.  
EMERGING TENSIONS
But while supporters were celebrating the historic result, tensions  arose within the AfD.
On Monday morning chairwoman Frauke Petry, the best known AfD politician announced that she would not be part of the AfD bloc when she joins Germany's Federal parliament, the Bundestag.
Whatever impact that decision may have, a debate is expected to continue on migration in Germany where more than a million refugees arrived since 2015 and social tensions remain despite an improving economy.
Despite the political uncertainty, world leaders seemed pleased that Merkel had been re-elected as chancellor.
French President Emmanuel Macron congratulated her saying he would continue "to cooperate with her with determination for Europe and our countries."
And Israeli Prime Minister Benjamin Netanyahu sent similar greetings, calling Merkel "a true friend of Israel."