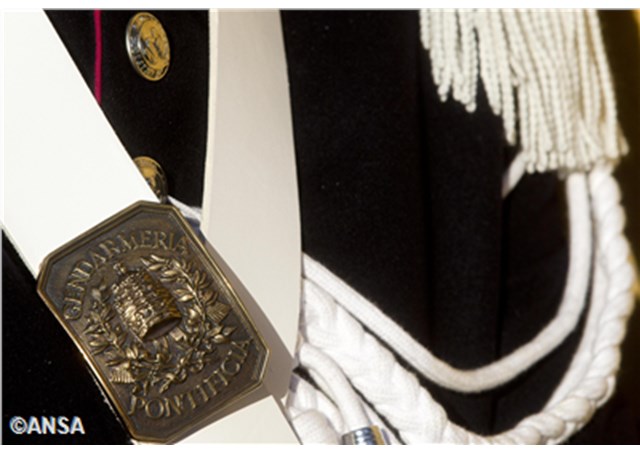 (Vatican Radio) Pope Francis said Mass for the Corps of Gendarmes – the Vatican police force – in the Lourdes Grotto of the Vatican on Sunday to mark the 201st anniversary of the founding of the Corps.
Click below to hear our report
In remarks following the Readings of the Day, Pope Francis focused especially on the 1st Reading, from the Book of the Prophet Isaiah, saying, "In the first Reading, the prophet Isaiah urges us to seek the Lord, to convert: 'Seek ye the Lord, while he may be found: call upon him, while he is near. Let the wicked forsake his way, and the unjust man his thoughts.' (55: 6-7).
Conversion and God's search for us
"Conversion," he went on to say, "is a [real] thing: [Isaiah] tells us that this is the way: to seek the Lord, to change one's life, to convert – and that is true. Nevertheless, Jesus changes the logic and goes beyond, with a logic that no one could understand: it is the logic of God's love. True, you must seek the Lord and do everything to find Him; but the important thing is that He is looking for you. More important than seeking the Lord, is to realize that He is looking for [you and] me."
The Father always ready to embrace us
Reflecting then on the Gospel parable of the Prodigal Son, Pope Francis said, "[God] goes out of Himself to look for us, so much has he gone out of Himself, that He has sent His Son to find us. Our God always has His gaze fixed on us. We think of the father of the prodigal son: the Gospel says that he saw him coming from far (cf. Lk 15:20). But why did he see him? Because every day, and perhaps several times a day, he went up to the terrace to see whether the son was approaching, whether the son was coming back. This is the heart of our God: it always waits for us – and when someone says, 'I've found God,' he is mistaken. God finally found you and has carried you with Him. It is He who makes the first step. He does not tire of going out, ever out [in search] ... He respects the freedom of every man, but there He is, waiting for us to open a door to Him."
Open the door to God's merciful love
The Holy Father concluded his reflections with an expression of hope and an exhortation.
"May the Lord, in this day that is so joyful for you, grant you this grace – to me, as well, and to everyone: the grace of being sure that He is always at the door, awaiting that I should open it [even] a little bit, in order that he should enter. Also, have no fear: when the prodigal son met the father, the father descended from the terrace and went to meet his son. That old man hurried, and the Gospel tells us that, when the son began to say, 'Father, I have sinned," the father did not let him speak; he embraced him, he kissed him. (Lk 15:20-21)"
"This," said Pope Francis, "is what awaits us if only we should open the door a little bit: the embrace of the Father."