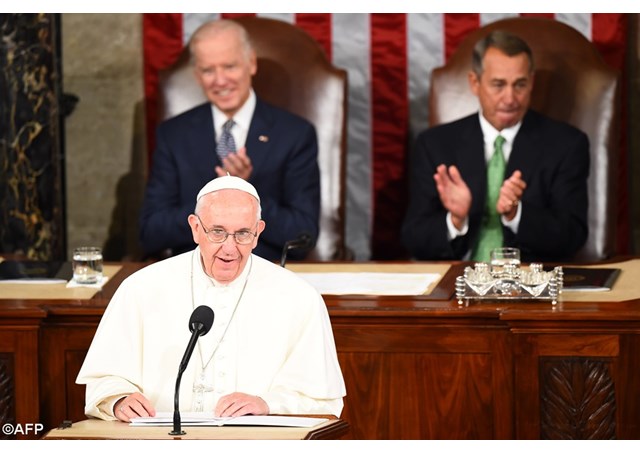 (Vatican Radio) Two years ago this Sunday (September 24th), Pope Francis made history by delivering the first-ever address by a reigning Pope to the U.S. Congress.
In his wide-ranging address, the Holy Father touched on issues ranging from the need for politics to serve the common good and the importance of cooperation and solidarity, to the dangers of fundamentalism, the refugee crisis, abolition of the death penalty, the need for courageous acts to avert environmental deterioration, the evils of the arms trade, and threats to the family from within and without.
Pope Francis focused especially on four great figures from US history: Abraham Lincoln, Martin Luther King, Dorothy Day, and Thomas Merton, saying that each of them helped build a better future for the people of the U.S.
Veteran Vatican reporter Cindy Wooden, who covered the historic event for Catholic News Service, told Vatican Radio that, two years on, the speech remains a challenge to lawmakers and citizens in the United States.
Click below to hear the extended conversation
"I wouldn't say that his points were completely accepted and acted on," Wooden told Vatican Radio, "but I think they are as much a challenge today – maybe even more so – than they were two years ago."
Wooden also said the Pope's speech continues to be important in the current climate of discourse in the United States.
"It's an important reminder of the vocation of the politician," she said. "The Pope use[d] in this speech, the same kind of vocational language that he would use for [the] priesthood or religious life: politics as a calling of service – and I think that, if politicians paid a little more attention to that right now, perhaps we'd be in a better spot."
Click below to hear Ciny Wooden's extended conversation with Vatican Radio's Alessandro Gisotti