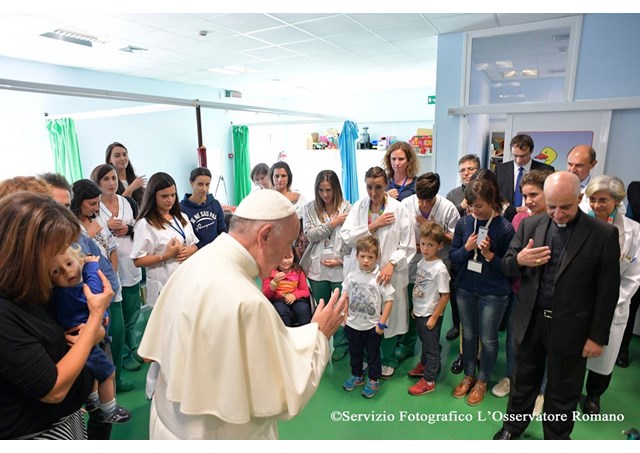 (Vatican Radio) Pope Francis on Friday made a surprise visit to a Rome rehabilitation centre for patients with neurological diseases.
A statement from the Holy See press office said the afternoon visit was a continuation of the 'Fridays of Mercy' initiative that he inaugurated during the recent Jubilee Year to encourage practical gestures of solidarity with those most in need.
The Santa Lucia Foundation, located to the south of Rome's city centre, is well known for its quality care of patients affected by physical or mental disabilities resulting from strokes, bone marrow diseases, Parkinson's and multiple sclerosis.
Pope Francis was welcomed by the director and staff of the centre, as well as by the patients and their family members. The Holy Father spent time talking and laughing with many of the young children, watching with particular interest as he was shown some of the exercises which help them to regain their mobility.
He also met with older patients, aged between 15 and 25, many of whom suffer from severe disabilities as a result of car accidents. Before leaving the centre, the pope visited a gym providing rehabilitation for the elderly and then spent a few minutes in prayer in a chapel located on the premises.