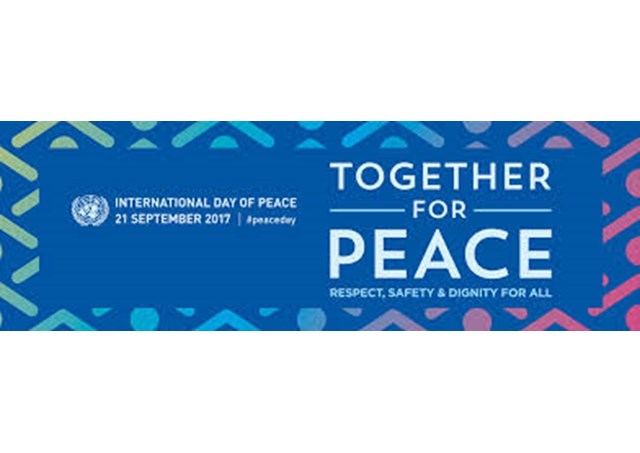 (Vatican Radio) International Day of Peace observed around the world on 21 September focuses this year on engaging and mobilizing people throughout the world to show support for refugees and migrants.
Fr. Cedric Prakash sj, a human rights activist from India and now working for JRS Lebanon  reflecting on the theme of the current year "Together for Peace: Respect, Safety and Dignity for All"  says that the theme  is based on the TOGETHER global campaign that promotes respect, safety and dignity for everyone forced to flee their homes in search of a better life. TOGETHER brings together the organizations of the United Nations System, the 193 member countries of the United Nations, the private sector, civil society, academic institutions and individual citizens in a global partnership in support of diversity, non-discrimination and acceptance of refugees and migrants.
Expressing his deep concern for the people suffering in different parts of the world and the insensitivity of the world leaders towards refugees, minorities and weaklings of the society he says that  it is therefore necessary to remind ourselves that each one of us is called to be a channel of peace and that we need to have the courage to hold our leaders accountable in ensuring peace for all.
Pope Francis he says  has consistently and unequivocally asserted the need for peace.  He further quotes the Pope's  letter to the International Meeting "Paths of Peace" held in Germany from September 10th to 12th  in which he wrote, "what we may not and must not do is remain indifferent, allowing tragedies of hatred to pass unnoticed, and men and women to be cast aside for the sake of power and profit.  Your meeting in these days, and your desire to blaze new paths of peace and for peace, can be seen as a response to the call to overcome indifference in the face of human suffering. I thank you for this, and for the fact that you have gathered, despite your differences, to seek processes of liberation from the evils of war and hatred. For this to happen, the first step is to feel the pain of others, to make it our own, neither overlooking it nor becoming inured to it. We must never grow accustomed or indifferent to evil".
The General Assembly has declared this day as a day devoted to strengthening the ideals of peace, both within and among all nations and peoples.