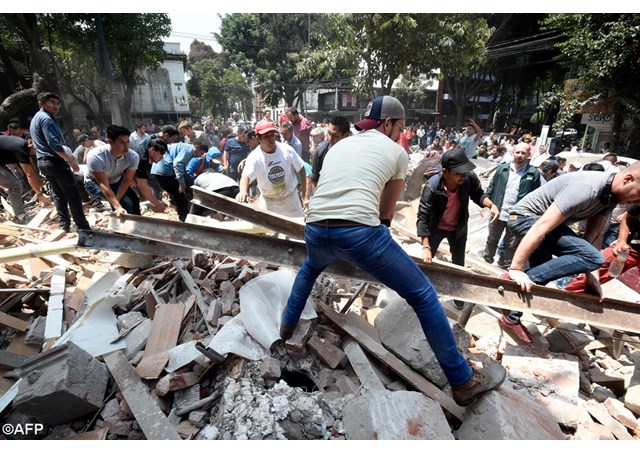 (Vatican Radio) The Bishops of Mexico have invited God's people to join in solidarity wtih all those affected by the massive, 7.1 magnitude earthquake that rocked the nation on Tuesday.
A message signed by the President and by the Secretary General of the Mexican Episcopal Conference, says "We are united in grief for the victims of the earthquake, which occurred on September 19, 2017, in different parts of our country, mainly in the states of Morelos, Tlaxcala, Puebla, Guerrero, Oaxaca, Mexico and the City of Mexico".
"Once again, the message continues, we are witnessing the solidarity of the people of Mexico, who see their brother in the one who suffers".
"Thousands of hands have formed chains of life, to rescue, feed" or add whatever they can in the face of the emergency, the bishops say.
Tuesday's earthquake comes in the wake of a devastating 8.2 magnitude quake that struck Mexico on September 7th, and the Bishops say "Today, more than ever, we invite God's people to unite in solidarity for our brothers who are suffering the different calamities that have plagued our country".
They also say that the General Secretariat of the Mexican Episcopal Conference is coordinating with different Church organizations in an effort to collaborate, and that it is very attentive to the information that is emerging from the different areas that are affected, "looking for ways to coordinate and collaborate more".
The Bishops conclude asking for the comfort of Our Lady of Guadalupe, so that "through her intercession She may help us and strengthen us, in the reconstruction of our country".
The message is signed by Archbishop José Francisco Robles Ortega, President of the Mexican Bishops' Conference and by the Secretary General, Bishop Alfonso G. Miranda Guardiola.
Pope Francis also prayed for the earthaquake vitims and invoked prayers for all those affected during his weekly General Audience.