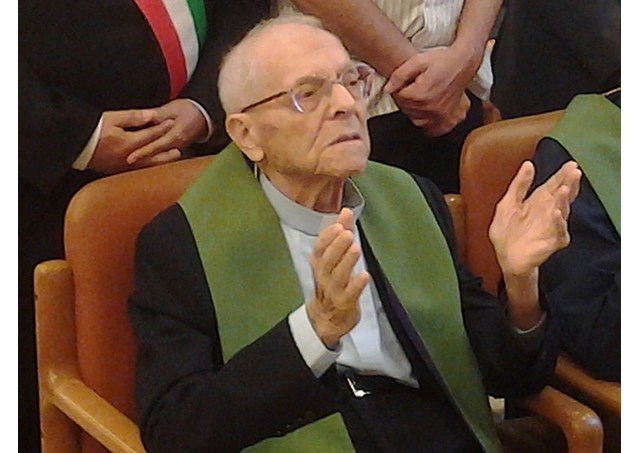 (Vatican Radio) Pope Francis on Monday sent greetings to Jesuit Father Antonio Stefanizzi, a longtime director of Vatican Radio who was celebrating his 100th birthday.
In a telegramme, signed by Vatican Secretary of State, Cardinal Pietro Parolin, the pope recalls the many years of fruitful and generous service that Fr Stefanizzi dedicated to developing the outreach of the Holy See's media and communications.
Fr Stefanizzi was appointed director of Vatican Radio in 1953, just two decades after its foundation by Italian scientist and inventor, Guglielmo Marconi.
In the following years, Fr Stefanizzi oversaw the setting up of a new transmission centre, north of Rome, which Pope Pius XII visited for the inauguration in 1957.
As the Radio continued to grow, Pope John XXIII also visited the transmission centre in 1962, as did his successor, Pope Paul VI in 1966. To cope with an increasing number of different language programmes, the production centre of the Radio was moved, in 1970, from its original site in the Vatican gardens to its current location in Palazzo Pio.
At the same time, Fr Stefanizzi also oversaw the development of more sophisticated audio and video systems for St Peter's Basilica and the setting up of a radio station, Radio Veritas, based in the Philippines, to broadcast across the region in a variety of Asian languages.
While Fr Stefanizzi stepped down as technical director of Vatican Radio in 1973, he continued to work through the Pontifical Council for Social Communications and was especially involved in the development of satellite technology, leading to the installation of two satellite dishes in the Vatican in the mid-1990s.
In 1990, Fr Stefanizzi was also appointed Secretary General of the fledging Vatican Television Centre and was involved in the development of the 'World Vision' global coverage of major papal events such as the Christmas or Easter Masses and the 'Urbi et Orbi' messages.
Today, Fr Stefanizzi lives at the Jesuit residence in Rome for the elderly and infirm, one of the oldest members of the community there.