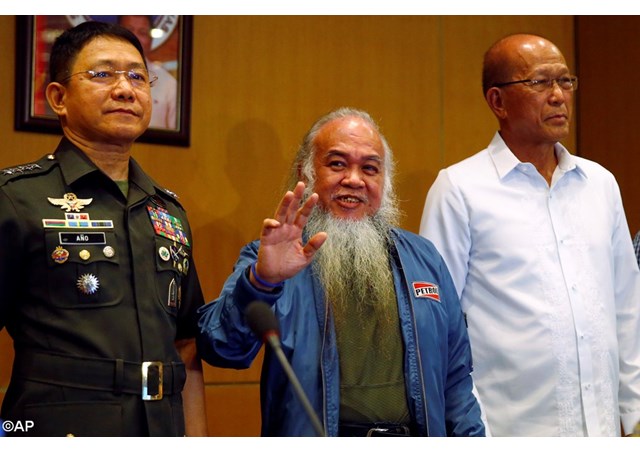 Bishop Edwin dela Pena of Marawi on Sunday, lauded the recovery of Fr. Teresito "Chito" Suganob who had been held by the Islamic State-inspired Maute group since the crisis erupted in Marawi City Philippines, nearly four months ago.
Fr. Chito was rescued with another individual at about 11pm Saturday, Presidential Adviser on the Peace Process Jesus Dureza told CBCPNews.
Lauding the military for its efforts in rescuing Suganob and other hostages abducted by the terrorists Bishop Edwin said that he was happy receiving messages about Fr. Chito's rescue no matter how hazy they were. 
The bishop received the message at the Abu Dhabi International Airport when he was on his way to Manila after speaking before a congregation in Rome on Friday about the situation in Marawi and the continuing interreligious dialogue in his prelature.
Presidential Peace Adviser Secretary Jesus Dureza first broke the news Sunday morning that Suganob was rescued on Saturday night in an area near Marawi City's second biggest mosque in Bato District.  He, however, declined to give more information because of ongoing military operations in the area with the hope of rescuing more civilian hostages.
Fr. Chito and a number of civilians were abducted by the Islamic State-inspired Maute group last May 23 when they launched an attack on Marawi City including the St. Mary's Cathedral.
Father Teresito Soganub  has given a news conference Monday, Sept. 18, 2017 at Camp Aguinaldo in suburban Quezon city, northeast of Manila, Philippines.(CBCPNews)