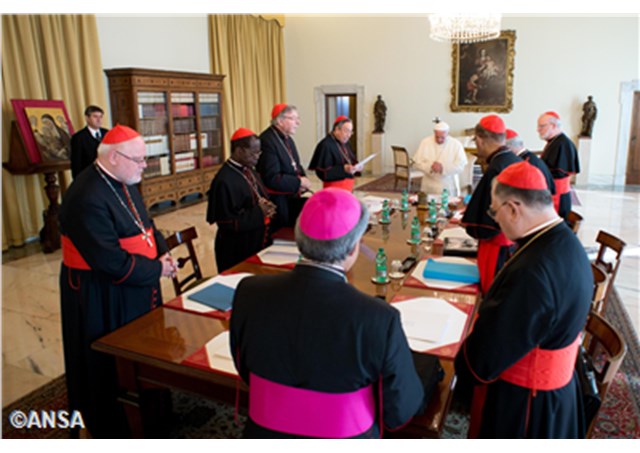 (Vatican Radio) The head of the Holy See press office, Greg Burke, held a briefing for journalists on Wednesday to report on this week's meeting of the so-called 'C9' Council of Cardinals. The aim of this 21st session of the C9 was to reflect on the ongoing reforms of the Curia.
The meeting took place over three days, from Monday to Wednesday, with Pope Francis joining the group of his closest advisors for the Tuesday morning and afternoon sessions.
Listen to Philippa Hitchen's report: 

Two members of the C9, Cardinal George Pell from Australia and Cardinal Laurent Monsengwo Pasinya from Congo, were unable to attend this week's meeting.
The other Church leaders, led by Honduran Cardinal Oscar Rodriguez Maradiaga, reflected on some of the pope's texts related to the reform of the Curia, including his traditional Christmas greetings, his speeches to the consistories of February and October 2015 and his words marking the 50th anniversary of the Synod of Bishops.
A main focus for discussion at this encounter was how the Curia can be an instrument of evangelization at the service of the pope and the local Churches. In particular the cardinals talked about the need for decentralization, the role of the nunciatures, the selection of personnel, especially the need for a less clerical and more international staff, with an increase in the number of women and young people.
The cardinals also discussed Pope Francis' recent Motu Proprio 'Magnum Principium', reflecting on how it may affect the work of the Congregation for Divine Worship, and they reviewed the statutes of the new office for Laity, Family and Life, which was instituted on September 1st 2016.
Three other prelates gave presentations about the work of their offices: Archbishop Rino Fisichella spoke about his Council for New Evangelisation, Cardinal Sean O'Malley updated the cardinals on the work of the Pontifical Commission for the Protection of Minors, and at the final session, Cardinal Fernando Filoni spoke to the cardinals about the work of his 'Propaganda Fide' Congregation.
The next meeting of the C9 is scheduled to take place in the Vatican from December 11th to 13th.