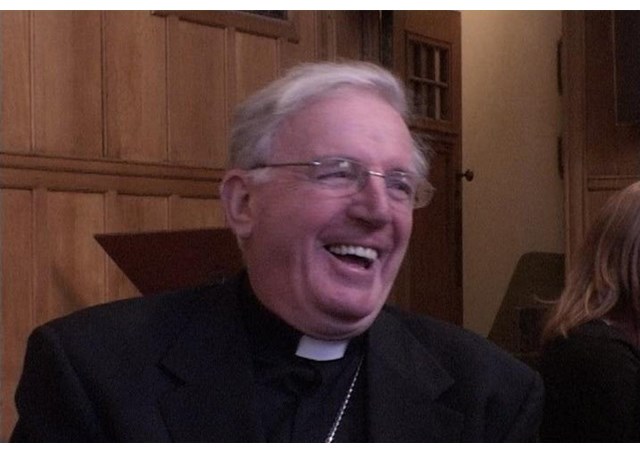 (Vatican Radio) Religious and political leaders in the UK have been paying tribute to the late British Cardinal Cormac Murphy-O'Connor, known for his warmth, humility and sense of humour. The cardinal's funeral takes place on Wednesday at London's Westminster Cathedral where his body has been lying in state. His successor, Cardinal Vincent Nichols, will celebrate the Requiem Mass, while Archbishop George Stack of Cardiff will preach.
Murphy O'Connor died on September 1st at the age of 85. In a message of condolences, Pope Francis praised his "distinguished service to the Church in England and Wales, his unwavering devotion to the preaching of the Gospel and the care of the poor", as well as "his far-sighted commitment to the advancement of ecumenical and interreligious understanding".
Cardinal Cormac was a regular guest on Vatican Radio throughout his years as head of the Church in England and Wales from 2000 to 2009. After his retirement, he continued to share with us insights and memories, as Philippa Hitchen reports:
Cormac Murphy-O'Connor was a great storyteller, who loved to talk about his early years in Rome. He first came to the English College as a fresh faced, 18 year-old student in the Holy Year of 1950. Among his most memorable experiences during that seven year formation period was a visit to the Vatican in 1951 of the young English Princess Elizabeth and her husband Prince Philip:
"In the Vatican everyone was dressed up to the hilt and she came in, looking very beautiful……"
Two decades later, Fr Cormac was back in Rome as rector of the English College, where he also played host to famous guests, including Prime Minister Harold Macmillan, Archbishop of Canterbury Donald Coggan and novelist Dame Muriel Spark.
In 1977 Pope Paul VI named him bishop of Arundel and Brighton and it was in that role that he was on hand to welcome John Paul II, as the first ever pope to travel to Britain since the bitter divisions of the Reformation:
"Gatwick was in the diocese, so I had to go on the plane and greet him……"
As a front man for ecumenical dialogue in the UK, he served almost two decades as co-chair of ARCIC, the Anglican-Roman Catholic International Commission. In 2000 he was appointed to Westminster, as head of the Church in England and Wales and was made a cardinal the following year.
The last time we talked, he shared his enthusiasm for the way Pope Francis is implementing so many of the reforms of the Second Vatican Council. Hardly surprising for a man who took as his bishop's motto the title of the key Vatican II document: 'Gaudium et Spes'.