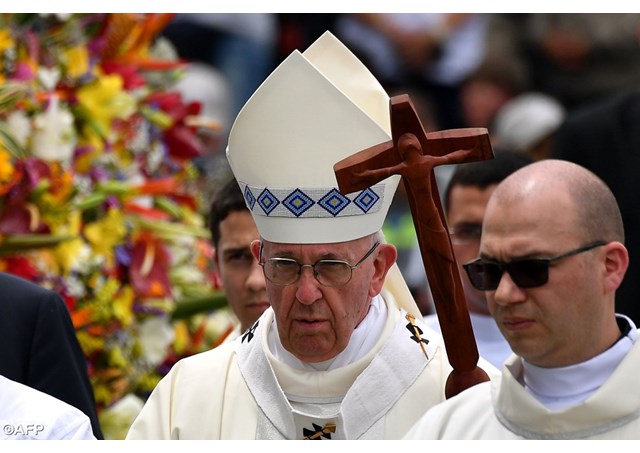 (Vatican Radio) The theme of day four of Pope Francis' visit to Colombia is "Vocations" and he travelled to the country's most Catholic city – Medellin – on Saturday to celebrate Mass and to encourage his brother priests to be like Jesus who looked beyond rigid doctrine, cared for sinners and welcomed them in.
Our correspondent Linda Bordoni is in Colombia and sent this report:
Reiterating a concept which is clearly a priority for Francis - in Colombia and across the globe - he  said to them: "the Church is not a customs post, it wants its doors to be open".
The overwhelming majority of the some 1 million faithful present at the Mass were wearing white – the colour of peace – and injecting his message with the overreaching leitmotiv of the journey, Francis urged all Colombians to "get involved" in helping each other and to embrace "acts of non-violence, reconciliation and peace."
"Get involved" was the call at the heart of his message to the clergy as he recalled the figure of Jesuit priest Saint Peter Claver and his motto – "Slave of the blacks forever" – because, the Pope said, "he understood as a disciple of Jesus, that he could not remain indifferent to the suffering of the most helpless and mistreated of his time, and that he had to do something to alleviate their suffering."
"Brothers and sisters, the Church in Colombia is called to commit itself with greater boldness, to forming missionary disciples" whom, the Pope said, look at reality with eyes and heart of Jesus: "Disciples who risk, act, and commit themselves".
His appeal is a poignant one in a country where so many hunger for food, dignity and justice, a country in which peace is only possible if the causes of social injustice, inequality and oppression are tackled.
Francis' 'brother priests' - as he calls them – have always been committed and continue to be in the forefront in Colombia. Not only as advocates for peace and human rights, but as key figures in making sure the voices of the victims were heard during the recent peace negotiations, in providing demobilization spaces for former guerrillas and developing programmes for their eventual integration in society, as well as offering education and assistance to the poor, to the displaced and the traumatized of the conflict.
Colombian priests have an important and difficult responsibility and task as they guide their flocks on the rocky path to reconciliation. To them – Pope Francis said – "Remain steadfast in Christ, in such a way that you manifest him in everything you do."
In Colombia with Pope Francis, I'm Linda Bordoni