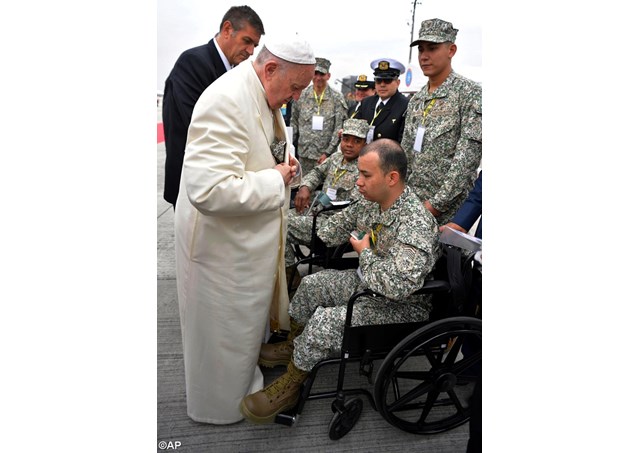 (Vatican Radio) White, the colour of peace, was worn on Friday by everyone present at the Prayer Meeting for National Reconciliation in the Colombian town of Villavicencio.
Our correspondent Linda Bordoni is in Colombia and sent this report:
A disfigured, mutilated and burnt black Christ hung over the gathering, a stark reminder of the evil of violence and death, that as Pope Francis said, breeds more violence and death in an endless cycle of destruction unless that chain is broken by the power of forgiveness and reconciliation.
He listened intently to the personal testimonies of victims and perpetrators of violence, their terrible stories of suffering and abuse acting as healing memories in the effort to overcome and unite for the good of the nation and all of its children.
And then Francis told them that he wasn't at the meeting in Villavicencio to tell them what to do, but rather to weep with them and embrace them as they help their country take the first, difficult but fundamental steps towards peace.
He thanked Luz for the gift of her crutch, a symbol – he said – of the more important crutch we all need which is love and forgiveness.
He bowed to Pastora's powerful and precious witness as she spoke of how the loss of two children to the conflict did not prevent her from conquering hatred and the desire for vengeance.
He listened to the stories of former guerrillas Deisy and Juan Carlos thanking them for helping us understand that they too are victims and that there is hope also for those who did wrong.
The crowd that lined the streets as Pope Francis was driven to pray and pay tribute to a memorial to the victims of the Colombian conflict also wore white.
A black stone on the memorial monument carries the number of those who died, 'disappeared' or were displaced: it reads 8 million four hundred and seventy two thousand one hundred and forty three.
As Pope Francis said right at the beginning of this heart-wrenching but incredibly uplifting afternoon, he had been especially looking forward to it.
It's no secret he has come to Colombia as a pilgrim of peace and hopefully this simple but powerful time together will be forceful enough to create a deep and definitive fracture in that deadly cycle of violence that can only lead to more division and grief..
In Colombia with Pope Francis, I'm Linda Bordoni