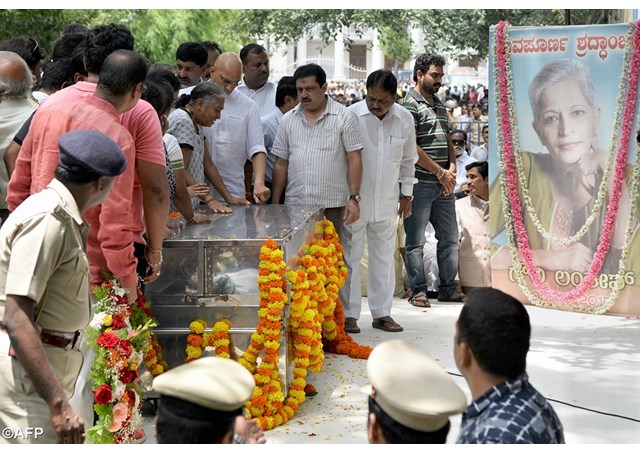 The Catholic Church of India on Wednesday  strongly condemned the murder of a noted Kannada journalist, on Tuesday in Bengaluru who fought the forces of evil, hatred and corruption.
The Catholic Bishops' Conference of India (CBCI) the Karnataka Region Catholic Bishops' Conference (KRCBC) and Karnataka United Christian Forum for Human Rights (KUCFHR) have denounced the murder of Gauri Lankesh, the editor of Lankesh Patrike , at her Raja Rajeshwari Nagar residence in Bengaluru. She was also an activist, thinker and writer. Gauri was the eldest daughter of the well-known Kannada poet-turned-journalist P Lankesh.
Reports claimed that two of the three assailants were bike-borne and followed her car to the house, while another attacker was lying in wait near her house. All three escaped from the spot.
Gauri stood up for the voiceless and even signed the petition demanding the release of  the seven innocent Christians who are languishing in jail in Odisha after the 2008 riots.  She believed in secular principles and actively engaged herself in the task of bringing Naxals to the mainstream.
Similarities were observed with the 2015 murder of renowned scholar MM Kalburgi, who was shot dead by two bikers who knocked on his door in Dharwad, around 400 km from Bengaluru. That killing  has remained  unsolved to date.
One of the slogans  at — 'Yesterday it was Kalburgi, today it is Gauri, tomorrow who?' — pierced through the night sky.
Below are the full texts of the Press Release of the CBCI as well as KRCBC
6th September, 2017
PRESS RELEASE
Condemnation of the killing of Senior Woman Journalist, Ms. Gauri Lankesh
   The Catholic Bishops' Conference of India condemns strongly and unequivocally the dastardly, brutal and cowardly murder of the Senior Woman Journalist, Ms. Gauri Lankesh, Editor of the Kannada weekly, Lankesh Patrike. We salute her for the courage with which she wrote, the conviction with which she lived her life and the boldness with which she fought the forces of evil, hatred and corruption.       
The murder of this versatile and brave journalist follows other crimes of hatred of recent times: the murders of Sahitya Academy Award Winner and Writer M M Kalburgi in Dharwad, thinker Govind Pansare in in Kohlapur, thinker Narendra Dabholkar in Pune, the mob lynchings by Gau Rakshaks in the name of protecting cows, political killings in Kerala and other such hate crimes.
          This hatred cannot build a New India. We need love, peace and harmony and we appeal to all leaders, peoples, communities and persons in our beloved India to shun the ideologies of hatred. Let our traditional values of peace, harmony, brotherhood and tolerance prevail at all cost. Let us isolate the forces of hatred and cutting across the political, social and religious spectrum unite to build a free, democratic, secular and progressive India.
          This murder comes even as Prime Minister Narendra Modi had told the nation in his Independence day speech, "Violence has no place in free India." We join our voices to his and to the voice of Civil Society and we unify our hearts to the hearts of all those fighting hatred, caste, regional or religious bigotry and fundamentalism.
          Let us remember for our New India what the father of our Nation wrote in Young India in 1925:
          "By a long course of prayerful discipline, I have ceased for over forty years to hate anybody. I know that this is a big claim. Nevertheless, I make it in all humility. But I can and I do hate evil wherever it exists. My non-co-operation has its root not in hatred, but in love. My personal religion peremptorily forbids me to hate anybody. I learnt this simple yet grand doctrine when I was twelve years old through a school book, and the conviction has persisted up to now. It is daily growing on me. It is a burning passion with me." (YI, 6-8-1925, p. 272)
          The Catholic Church in India prays for peace, harmony and the victory of light over darkness, love over hatred, good over evil.
          God bless India.
Jai Hind!
        Bishop Theodore Mascarenhas, SFX
                                                                            Secretary General, CBCI 
PRESS  RELEASE
Condemnation  of the  killing of Ms  Gauri Lankesh – Senior  woman journalist
The Karnataka  Region  Catholic  Bishops'  Conference  strongly  condemns the  brutal  and  cowardly  murder of Ms  Gauri Lankesh, editor of  the  Kannada  weekly Lankesh Patrike.  She  was  a  person   brave and courageous ,  ready  to express her views  regarding  the  social  situations.  She  wrote convincingly risking her  life  for  the  truth  she  held  as  proper  and   just.  She  joins the stalwarts like  Narendra  the dhabolkar, Govind Pansare,  M M  Kalburgi. She  will be remembered forever for the courage  she manifested.
Human hatred does not have  any special place  in  new  India.  We need  love, peace and harmony in the country and we appeal all  our leaders and people  to project this ideology.  We stand  with  our Prime  Minster  Narendra Modi  who  in his  Independence  Day speech said " violence  has no  place  in  free  India." Let us  join together to advocate this peace and  non violence  in our  beloved  country India. 
The Catholic Church along with the Archbishop  and the Bishops  prays for peace , harmony and non violence.  We pray that  the Divine Light may have its victory over  the darkness  prevailing.  We express our  deep condolences to the family  of  Ms  Gauri  Lankesh and  pray  that  the Lord of peace  may shower  his  plentiful  blessings  on them  and  on our  beloved  country India.  
Most Rev. Dr. Bernard  Moras,                                                                                                     
Archbishop of  Bangalore
         &
President, Karnataka United Christian Forum for Human Rights (KUCFHR),
President, Karnataka Region Catholic Bishops' Council (KRCBC),