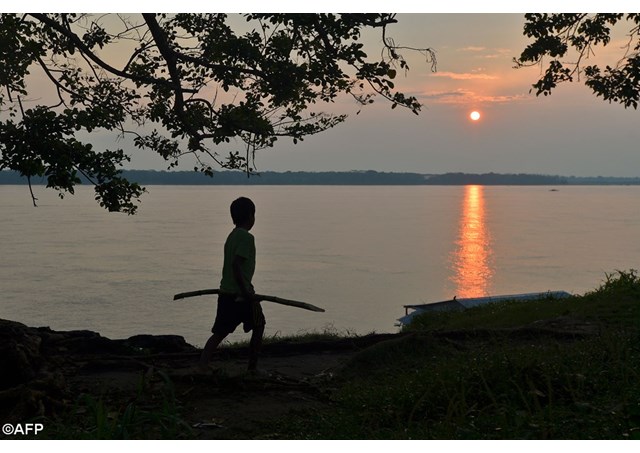 (Vatican Radio) Pope Francis is preparing to embark on a 5-day Apostolic Journey to Colombia, his 20th visit abroad.
He will speak to the people and to his brother bishops on many different occasions and is expected to highlight issues that are crucial not only to the people of Colombia  - who are undertaking a journey of reconciliation and reconstruction after a decades-long internal conflict – but to men and women of goodwill across the world.
One of these will undoubtedly be rooted in his call for environmental justice and the need to respond to the challenges facing the people of the Amazon in the face of growing development and globalization.
Chloe Schwabe is the director of the Faith-Economy-Ecology project for Maryknoll's Office for Global Concerns which is a partner in the REPAM (Red Eclesial Pan-Amazonica) network established by the Catholic bishops of the Amazon region. She supports their work as an advisor and advocate and speaks to Linda Bordoni about REPAM's mission and her hopes for Pope Francis' visit to Colombia. 
Listen to the full interview:
Emphasizing how REPAM's work and ministry with God's creation and indigenous communities in the Amazon is a wonderful example of how "Laudato Sì" is being realized by the Church, Chloe Schwabe says that during this very challenging moment for peace and land reform in Colombia the accompaniment by the Church is going to be critical throughout the process.
Land reform, Schwabe stresses, will be a crucial challenge "because a number of indigenous and peasant communities did lose access to land during the conflict," many of them have become displaced and are even risking new displacement because of the encroachment of palm oil production in the area.
"In this moment the Colombian government will have to work to make sure that indigenous communities, Afro-Colombian communities and peasant farmers do have access to land, and especially as Colombia is moving more towards the extractive industries as a model for economic growth, we will see whether they prioritize the most vulnerable and God's people or if they will prioritize giving land to extractive industries" she said.
Inclusion, she continues, will have to be essential: "one of the issues that drove the conflict in the first place was an  unequal distribution of land and the conflict exacerbated that as armed actors  fought for territory not only for natural resources and coca expansion, but also as a way to gain territory for their own activities".
Schwabe speaks of the importance of faith-based groups in accompanying the most vulnerable communities, a ministry that remains critical in the current process.
"Unfortunately there's been a rise in threats, attacks and even murders against human rights defenders" since the peace agreement has been signed, she says, so it remains a critical moment for the process itself and for human rights so the Church's voice is very important at this time.
Schwabe also expresses her belief that Pope Francis' presence in the country will be very important to encourage the peace process and says she is hopeful that his words "will continue to keep everyone, the whole society animated to move forward with the process".
She says she is particularly looking forward to hearing his message regarding displacement and the migration of people through Colombia who are in dire need of having access to land and to stable lives and livelihoods.
Schwabe says she is also expecting to hear more of Francis' message on integral ecology and the need to ensure that God's creation is protected "as are the indigenous people and Afro-Colombians (…) because we know that the eco-systems that they depend on are interconnected relationships".
"With the rich diversity of indigenous peoples and the historical injustices that they have faced, Schwabe says she believes Francis' voice will be critically important: it was very difficult to get the indigenous people to be at the table in these peace negotiations and I hope that his encouragement and presence will ensure that the voice of the indigenous people are heard throughout this peace process."