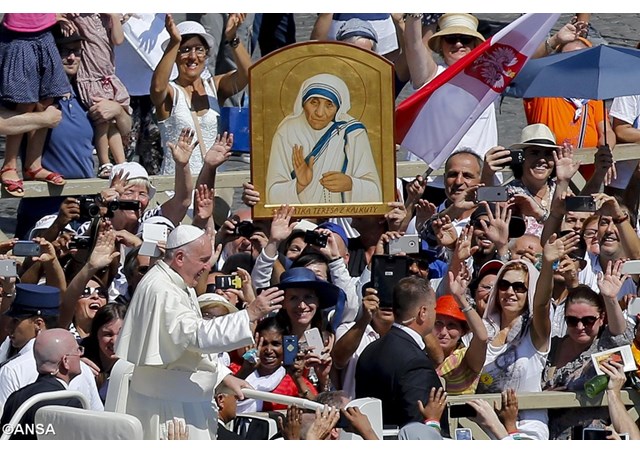 As the first anniversary of the sainthood of Mother Teresa of Kolkata was marked on Monday, the Archdiocese of Calcutta, in eastern India, is set to declare her as its co-patron.  "On 6 September we will have at 5.30 pm a Holy Mass in the Cathedral (of the Most Holy Rosary) and the Archbishop is going to declare Mother Teresa as co-patroness of the Archdiocese," IANS reported Sister Prema, Superior-General of the Missionaries of Charity of Mother Teresa, as saying on September 4.   
Sister Prema made the declaration at the inauguration of a two-day exhibition of paintings and sculptures on Mother Teresa organized in Kolkata, formerly Calcutta, by the Indian National Forum of Art and Culture in association with the Indian Council for Cultural Relations (ICCR) and Church Art to commemorate the first anniversary of the Nobel laureate's canonization, Sept. 4, as well as her 20th death anniversary, Sept. 5.  The exposition by upcoming artists will be taken to different cities across India. 
According to Archbishop Thomas D'Souza of Calcutta, every diocese has a patron and the Archdiocese of Calcutta is dedicated to St Francis Xavier.  "We wanted to make Mother our co-patroness. We seek her intercession and give her the prominence that is due especially in a city like Calcutta and the Archdiocese of Calcutta," Archbishop D'Souza told IANS.
Sister Prema said that the Missionaries of Charity are willing to give a relic of the saint to the numerous churches that are asking for it. "There are many churches in the world that already have a place preserved in their church where the relic of the Mother will be venerated," she said. 
Sister Prema said the characteristic blue-and-white pattern sari associated with the nun and the order she founded is registered as a trademark now.  "In order to have it protected for Mother's interests... it's not to be used for fundraising. It's registered as a trademark," she explained.
It was on September 4 last year that Pope Francis officially elevated the "saint of the gutters" to the ‎honours of the altar during a Mass in St. Peter's Square in Rome.  In his homily, the Pope praised her ‎radical dedication to society's outcasts and her courage in ‎shaming world leaders for the ``crimes of ‎poverty they themselves created.'' ‎
Mother Teresa was born Agnes Gonxha Bojaxhiu‎ on ‎August 26, 1910, of Albanian parents in Skopje, in ‎what ‎is ‎Macedonia today.  As an 18-year old, she chose to become a missionary and joined the Loreto Sisters in Ireland and came to Calcutta city in ‎‎1929.   However, in September 1946, she experienced what she described as a "call within a call" from Christ to leave the Loreto Sisters and dedicate her life for the poor and the abandoned in Calcutta.  Known for her ‎unconditional ‎love ‎for the poor and the abandoned, she founded her Missionaries of Charity ‎congregation in 1950. She earned numerous national as well as international honours, including ‎the ‎Nobel Peace Prize in 1979, for her works of ‎mercy.   She died on September 5, ‎‎1997 at the age of 87 ‎and ‎St. ‎John ‎Paul II declared her Blessed on October 19, 2003, in the Vatican, .  ‎(Source: IANS)