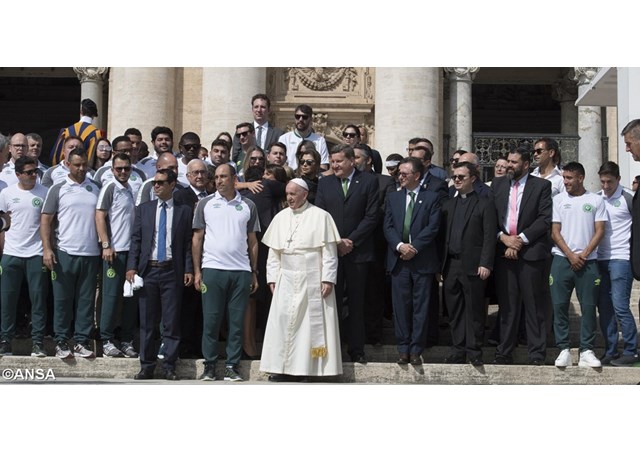 (Vatican Radio) Pope Francis had special greetings on Wednesday for the players, coaches, and staff of Brazil's Chapecoense soccer club, who were present at the weekly General Audience.
"My desire for you is that you grow in the wisdom that comes from God," said Pope Francis in greetings to Potruguese-speaking pilgrims, which included the soccer club-members, "in order that, having been made experts in the things of God, you might be able to communicate to others the sweetness of His love."
Air tragedy
Chapecoense suffered tragedy on November 28th, 2016, when the LaMia Flight 2933 carrying the  club's first team crashed en route from Bolivia to Colombia, killing all but three members of the squad. Two of the survivors, Jackson Follman and Alan Ruschel, were in attendance, and met with Pope Francis along with the other members of the club on the sidelines of the Audience on Wednesday.
Friendly match in spirit of solidarity
Chapecoense is in Rome for a friendly against A.S. Roma at Olympic Stadium on Friday, organized to raise funds for the Brazilian club.
"This is a friendly organized for purposes of solidarity," A.S. Roma's ticketing manager, Carlo Feliziani, explained earlier this week to Radio Roma. "We hope our fans will come to the stadium, both to see the match and to help Chapecoense get back on their feet," he continued. "Ticket prices will be very low," he explained, "€10 for end-zone seats and €25 for more central seats."
Kick-off is scheduled for 20:45 on Friday, September 1st.