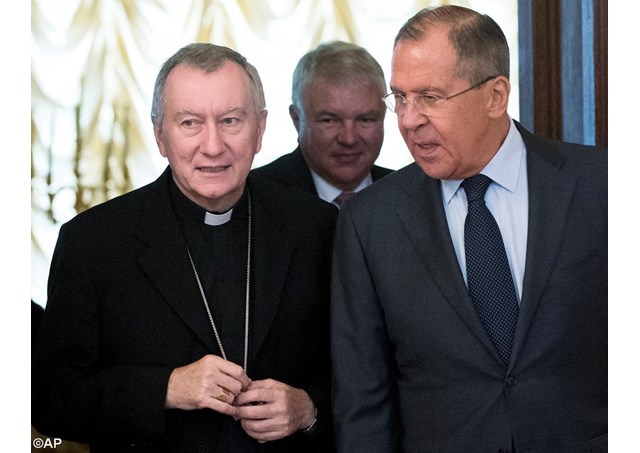 (Vatican Radio)  Cardinal Secretary of State Pietro Parolin met with Russian Foreign Minister Sergej Lavrov for talks on Tuesday, during which they discussed issues of international concern and agreed to visa-free diplomatic travel.
Listen to Devin Watkins' report:
During the press conference following their talks, the Holy See and the Russian Federation signed an Agreement waiving visa requirements for holders of diplomatic passports.
Cardinal Parolin and Foreign Minister Lavrov called this a sign of the two countries' desire to continue to work together on bilateral relations and issues of international concern.
Cardinal Parolin said he raised questions regarding the Catholic Church's life and activity in Russia with his counterpart.
He said difficulties remaining between the Vatican and Russia include "working residency permits for non-Russian personnel and the restitution of several churches necessary for the pastoral care of Catholics in the country."
Christians in Middle East
Russian Foreign Minister Lavrov evoked the need for solutions for Christians living in the Middle East.
"We need to find similar solutions that would provide proper balance between different ethnic and religious groups in Yemen, Libya, and Iraq, where state building processes are underway," Mr. Lavrov said.
Cardinal Parolin said he recognized the difference in approach between Russia and the Holy See on these issues. But he said the two share a "strong concern for the situation of Christians in several countries of the Middle East and the African continent".
"The Holy See nourishes constant concern that religious liberty be preserved in all States and in all political situations," Cardinal Parolin said.
Dialogue in Venezuela
Responding to a question about the situation in Venezuela, Cardinal Parolin said he believes Russia can help to overcome this very difficult moment."
He said Russia can promote the Vatican's efforts to create dialogue between Venezuela's government and the opposition.
"This is the only solution the Holy See sees for an exit to this situation."
Cardinal Secretary of State Parolin meets with Russian President Vladimir Putin in Sochi on Wednesday.