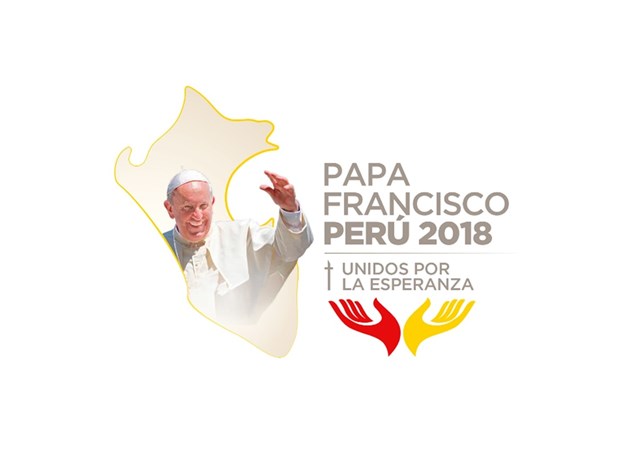 (Vatican Radio)  The Vatican has released the official logo and motto for Pope Francis' Apostolic Journey to Peru, which takes place on 18-21 January 2018.
Listen to Devin Watkins' report:
"United for Hope" (Unidos por la esperanza) is the official motto for the Journey, signifying that the encounter will be "a great feast of hope to be received in unity".
Logo
The logo expresses the Pope's closeness to the Peruvian people and his accompaniment of their journey of faith.
Two outstretched hands under the motto and date of the visit evoke the colors of the Peruvian and Vatican flags: red and yellow, respectively.
They form the shape of wings as a sign of prayer, praise, and joy for the arrival of Pope Francis in Peru.
To the left, Pope Francis joyfully reaches out of a map of Peru in a sign of closeness to the country and of unity with it.
Third papal visit to Peru
Pope Francis becomes the second Pope to visit Peru, following Pope St. John Paul II's two visits in 1985 and 1988.
Thirty years then since the last papal visit, Peru requested that Pope Francis journey there, in order to strengthen the bond between God and his Peruvian people and to aid in "a new missionary awakening" in the country.