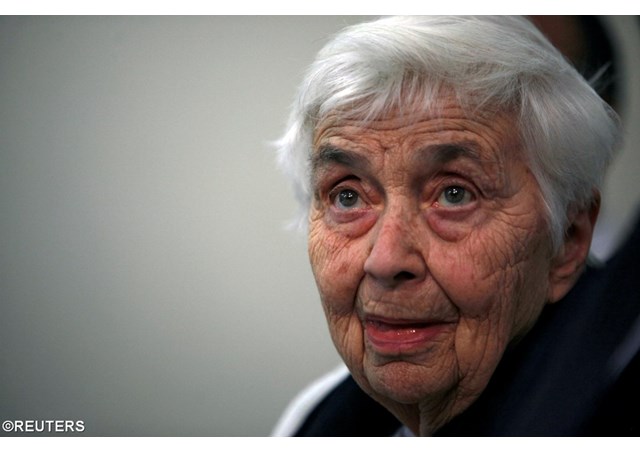 (Vatican Radio) German-born Catholic missionary Sister Ruth Pfau, who devoted her life to eradicating leprosy in Pakistan, died on Thursday in the southern city of Karachi.  87-year old nun of the Daughters of the Heart of Mary order, widely known as Pakistan's Mother Teresa,  was admitted to the Aga Khan Hospital a few days ago suffering from old age complications.
National heroine
Sr. Pfau was eulogized by the prime minister and army chief for her contributions towards freeing the country of the stigmatized disease that can cause disfigurement. 
"Pfau may have been born in Germany, her heart was always in Pakistan," Prime Minister Shahid Khaqan Abbasi said in a statement.  " She came here at the dawn of a young nation looking to make lives better for those afflicted by disease, and in doing so, found herself a home. We will remember her for her courage, her loyalty, her service to the eradication of leprosy, and most of all, her patriotism," he added
Pakistani President Mamnoon Hussein also expressed grief at the loss of Sr. Pfau recalling her services for the helpless and neglected in the country. "Dr Pfau's services to end leprosy in Pakistan cannot be forgotten. She left her homeland and made Pakistan her home to serve humanity. Pakistani nation salutes Dr. Pfau and her great tradition to serve humanity will be continued," the President stated.
Mission
Born on Sept. 9, 1929 in Leipzig, Sr. Ruth Pfau studied medicine in the1950s at the universities of Mainz and Marburg in then West Germany.  After her graduation she joined the religious order of the Daughters of the Heart of Mary, which sent her on mission to India.  On her way she stopped in Karachi on March 8, 1960, because of some visa problems.  It was here that she became involved with working with people affected by leprosy or Hansen's Disease.  In 1961 she went to Vellore, South India to acquire training in the management of Leprosy. She then returned to Karachi to organize and expand the Leprosy Control Programme.  She founded the Marie Adelaide Leprosy Centre in Karachi, Pakistan's first hospital dedicated to treating the disease, which today has 157 branches across the country. 
"It was due to her endless struggle that Pakistan defeated leprosy," German Consulate Karachi posted on Facebook.  In 1996, the World Health Organization declared that leprosy had been controlled in Pakistan, which led Sr. Pfau to the more challenging task of eliminating the disease.  Last year, the number of patients under treatment for leprosy fell to 531 from 19,398 in the 1980s, the Dawn newspaper said.
Recognition
Sr. Pfau has won numerous honours and prizes in Pakistan and abroad for her humanitarian services.  Germany awarded her the Order of Merit in 1969.  In 1979, the Pakistani government appointed her Federal Advisor on Leprosy to the Ministry of Health and Social Welfare.  Pakistani government honoured her with the Hilal-e-Imtiaz in 1979 and the Hilal-e-Pakistan in 1989. She was granted Pakistani citizenship in 1988.  In 2002 she won the prestigious Ramon Magsaysay Award, regarded as Asia's Nobel prize. 
In recognition of the services rendered by late Ruth Pfau for Pakistan, Prime Minister Shahid Khaqan Abbasi has announced state funeral for Ruth Pfau.  The last rite of Sr. Pfau is scheduled for Aug. 19 at St Patrick's Cathedral in Karachi and she will be laid to rest at the Christian cemetery in the city.