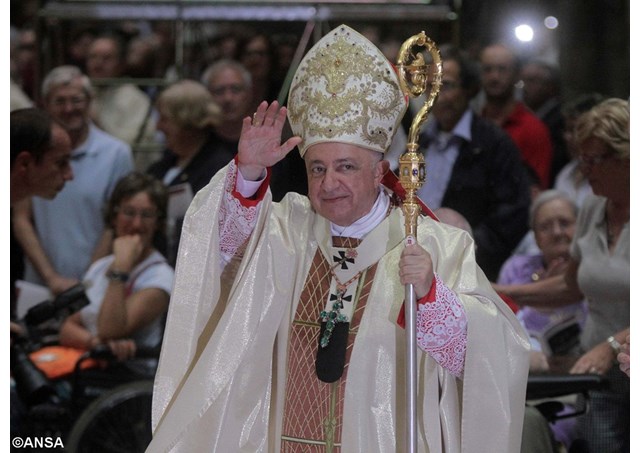 (Vatican Radio) Following the death of Cardinal Dionigi Tettamanzi, Pope Francis has sent a telegram of condolence to Archbishop Mario Delpini, Archbishop-elect of Milan.
"I think with affection and remember with gratitude the intense cultural and pastoral work accomplished by this praiseworthy brother, who in his fruitful life has borne witness with joy to the Gospel, and docilely served the Church," the Pope said. He remembered Cardinal Tettamanzi's service "first as a priest of the Archdiocese of Milan, then as Bishop of Ancona-Osimo, secretary of the Italian Bishops' Conference, and Archbishop of Genoa, later as Archbishop of the beloved Ambrosian Church, and finally as Apostolic Administrator of Vigevano."
Cardinal Tettamanzi, Pope Francis said, "always distinguished himself as a caring pastor, totally dedicated to the needs and well-being" of his priests and people. In particular, he noted the Cardinal's expertise in the fields of family, marriage, and bioethics.
Concluding the telegram, Pope Francis prayed "that, through the intercession of the Blessed Virgin Mary," the Lord "might welcome this His faithful servant, whom I loved so much, into joy and eternal peace."