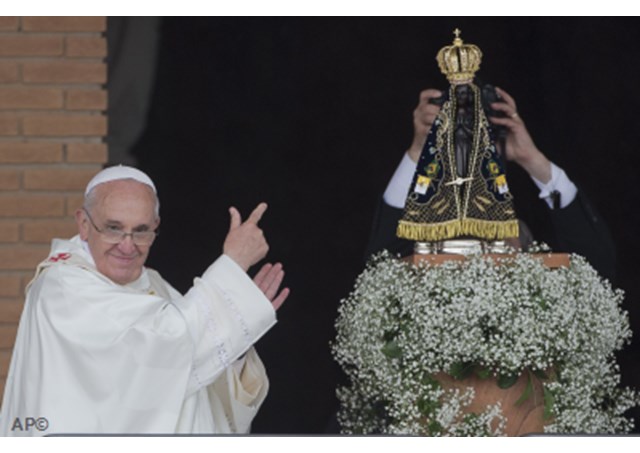 (Vatican Radio)  Pope Francis has sent a message to the National Youth Meeting at the Sanctuary of Aparecida in Brazil, inviting young people to turn their lives into leaven for a better Brazilian society.
His message came at the conclusion of the "Rota" (Way) 300 project, which closed on July 29 with a large celebration at the sanctuary. The initiative celebrated 300 years since the discovery of the statue of Our Lady of Aparecida in the Paraiba do Sul River.
Listen to our report:
Pope Francis told the young people that Mary is a sign of hope and that she knows the difficulties awaiting young people. He also encouraged them to live with a missionary spirit.
"Dear friends, in the midst of daily uncertainties and insecurities and in the midst of the precariousness created by unjust situations, you have one certainty. Mary is a sign of hope who will impel you with a great missionary drive. She knows the difficulties with which you live. Her attention and motherly care help you know that you are not alone."
The Holy Father also recalled the Brazilian story of the poor fishermen, who, after an unfruitful fishing expedition in the Paraiba do Sul River, cast their nets one more time and discovered to their surprise a broken statue of Our Lady, encrusted with mud. They first found the statue's body and then its head.
"As I told the Brazilian bishops in 2013, this story holds an important symbolism. What was divided has been reunited, just like the heart of those fishermen and colonial Brazil once divided by slavery, realities which found unity in the faith, which the black statue of Our Lady has inspired."
Pope Francis then invited the young people to let their hearts be transformed by the encounter with the Mother of Aparecida.
"May she transform the 'nets' of your lives – nets of friendship, social networks, material and virtual nets – realities which are often divided, into something more meaningful. May they become communities! Missionary communities 'going out into the world'! Communities which are light and leaven for a more just and fraternal society."
The Pope also recalled his message to the CELAM Meeting earlier this year, asking young people "not to be afraid to take risks and to work to build a new society, imbuing social, political, economic, and university environs with the force of the Gospel!"
"Do not be afraid to fight corruption, and do not let yourselves be seduced by it! Trusting in the Lord, whose presence is the source of abundant life, and under Mary's mantle, you can rediscover the creativity and strength of being protagonists for a culture of unity and, therefore, create new paradigms to guide the life of Brazil."
Pope Francis concluded his message with a prayer.
"May Our Lady – who in her youth knew how to courageously embrace the call of God for her life and go forth to those most in need – walk ahead of you, guiding you in all her ways!"