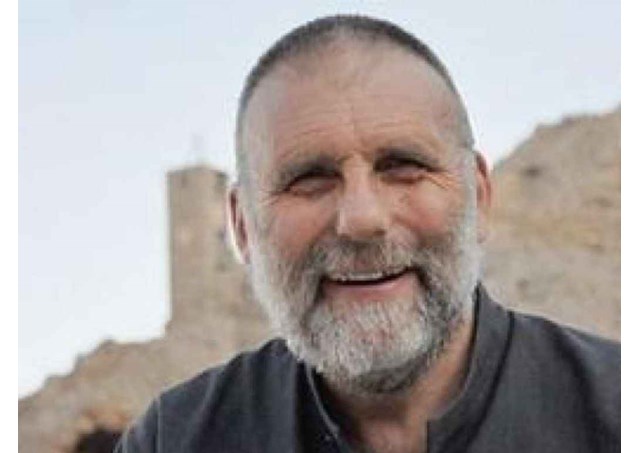 (Vatican Radio) Exactly four years ago, on July 29 2013, Jesuit priest Father Paolo Dall'Oglio was abducted in the rebel-held eastern city of Raqqa in Syria.
Witnesses said Father Paolo was kidnapped while he was walking in the city, which had fallen under the control of members of the so-called Islamic State . There has been no news of him since. 
Born in 1954, the Italian priest became a Jesuit in 1975 and worked extensively in dialogue and reconciliation.
Fr Dall'Oglio served for 30 years at Deir Mar Musa, a 6th-century monastery 80 kilometers north of Damascus, which he singlehandedly transformed from a desert outpost of Syriac Catholicism into an internationally celebrated inter-faith cultural center.
Poet and author Marius Kociejowski met Fr Dall'Oglio on more than one occasion whilst travelling in his beloved Syria. 
He told Linda Bordoni how Father Paolo loved the monastery right from the beginning, and worked hard to reconstruct and restore the Deir Mar Musa complex and transform it into a Center of interfaith dialogue.
Kociejowski tells of how he met Father Paolo at the Monastery of Deir Mar Musa: "the Monastery was high up in the mountains, there was no road leading up to it, one had to walk over a mountain to get there… it was that isolated!"
"I was walking there, and lo and behold: there was Father Paolo coming with his arm in a black sling. And he looked at me and said: 'are you the doctor?' And I said: 'Yes, but not the one you are looking for.' And we hit it off immediately!"
Kociejowski says Father Paolo had broken his arm chasing goats in the extremely wild area around the monastery. After having had it set properly at the hospital, he came back and the two men went into a valley: "there was the red stone, the blue sky and just us, and we spoke and spoke and spoke… and it was quite the most wonderful conversation."
Father Paolo told Kociejowski about how he had first come to Deir Mar Musa and stayed there alone for two weeks "with rancid water and bugs and everything else… he had an epiphany back then, and knew he had to come back to this place and restore it".
Kociejowski describes Deir Mar Musa as the greatest instance of early Syriac art in the whole Middle East. He says it is to Father Paolo that we owe the reconstruction of this extraordinary site which has also become a site of refuge, reflection and learning.
Thinking back to Father Paolo, the man, Kociejowski says he describes him in one of his books narrating  how "he got right down there and worked with everyone else".
"An extraordinarily charismatic man. Not without pride:  he said pride was the one thing he had to continually battle. But in the years since I met him he became one of the most vital figures in the country. It was upon him that perhaps one could build a kind of vision of building bridges in the future".