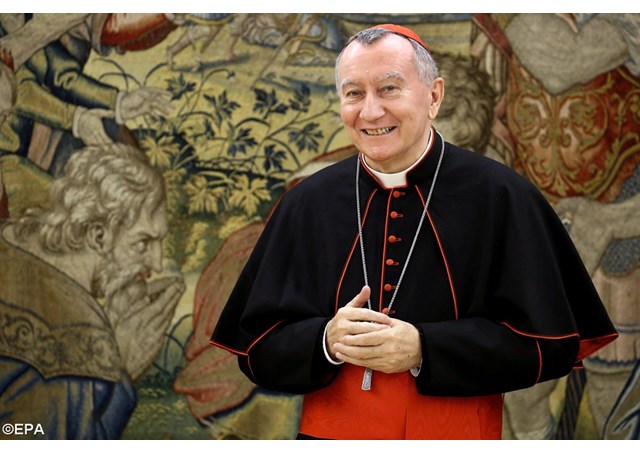 (Vatican Radio) The Holy See has confirmed that the Vatican Secretary of State, Cardinal Pietro Parolin, will travel to Moscow in September.
Parolin's journey to Russia comes in the wake of his visits to Belarus and to Ukraine in the past two years signaling the Vatican's continuing engagement with eastern Europe and its desire to continue supporting the Christians in the region.
Listen to the report by Linda Bordoni:
In an exclusive interview with the Italian newspaper "Il Sole 24 ore", Cardinal Parolin pointed out that the Holy See's support for Christians in Eastern Europe has never waned, not even in the darkest of years.
Holy See's historical relationship with Russia
He said the Vatican has always given great value to its relationship with Eastern Europe and with Russia and he recalled the Tsar, Nicholas I's two meetings with Pope Gregorius XVI in 1845, and how the the Pontificate of Pius IX began in 1847 with an agreement by which both the government and the Holy See played a part in filling vacant Latin Church episcopal sees in Russia and in its Polish provinces.    
Parolin described the continuing relationship between the Vatican and Russia as a "patient, constructive and respectful dialogue".
Diplomacy of peace
It is crucially important, he said, especially regarding those issues that are at the root of current conflicts or that risk triggering further tensions.
"In this sense, the question of peace and the quest for solutions to the various crises should be placed above any national or partial interest. There cannot be winners or losers, Cardinal Parolin stressed, I am convinced that it is the mission of the Holy See to insist on this fact".
In the article the Vatican Secretary of State also touched on the global issue of violence perpetrated in the name of religion and spoke of the need to protect religious freedom and at the same time protect Christians – or any other community –  at risk of persecution.
He also spoke of the need to continue to work to protect and care for creation expressing his hope that the United States – and other international actors – do not ignore their international responsibility to care for our common home, work to reduce poverty and inequality, and open their hearts to forced migrants and refugees.
"The Catholic Church's diplomacy is a diplomacy of peace" – Parolin explained – it is not driven by political, ideological or economic interests, and for this reason it is free to pursue the path to common good and to denounce the catastrophic effects a self-referenced vision can have on all.