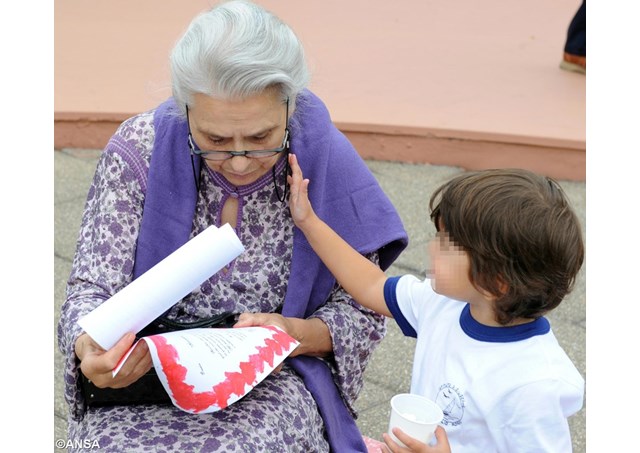 "Mennyire fontosak a nagyszülők a család életében, hogy átadják az emberi és vallási örökséget, amely alapvetően fontos minden társadalom számára!"
Quanto sono importanti i nonni nella vita della famiglia per comunicare il patrimonio di umanità e di fede essenziale per ogni società!
¡Qué importantes son los abuelos en la vida de la familia,  para comunicar el patrimonio de humanidad y de fe esencial para toda sociedad!
Quanto são importantes os avós na vida da família para comunicar o patrimônio de humanidade e fé essencial para cada sociedade!
How important grandparents are for family life, for passing on the human and religious heritage which is so essential for each and every society!
Les grands-parents sont importants dans la famille pour communiquer le patrimoine d'humanité et de foi essentiel pour toute société !
Die Großeltern sind wichtig im Leben der Familie! Sie geben das Erbe an Menschlichkeit und Glauben weiter, das jede Gesellschaft braucht!
Sane quam in familiae vita valent avi ad humanitatis fideique patrimonium communicandum, quod apud societatem summi est ponderis.
Jakże potrzeba dziadków w życiu rodziny do przekazania dziedzictwa człowieczeństwa i wiary, niezbędnych dla każdego społeczeństwa!
ما أهمَّ الأجداد في حياة العائلة لينقلوا إرث بشريّة وإيمان جوهريٍّ لكل مجتمع!