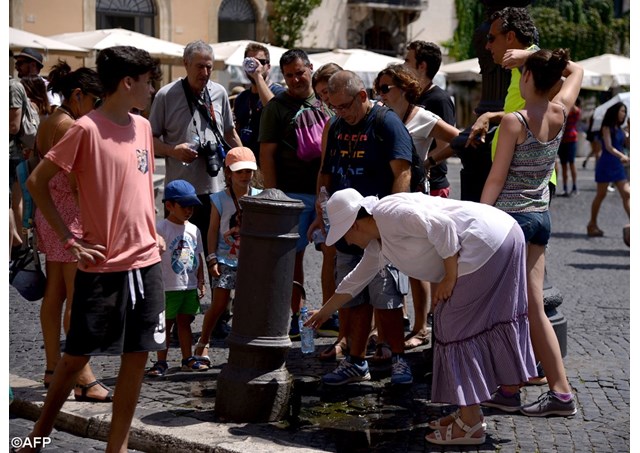 (Vatican Radio) There is serious concern in Italy as soaring temperatures and a lack of rain deplete vital water sources which could lead to water rationing for Romans.
Listen to this report: 
Walk along the cobbled streets of Rome and you're sure to find a fountain which supplies fresh drinking water to Romans and tourists alike. These fountains don't have taps to stem the flow and now risk being turned off as searing heat and a lack of rain dry up vital water sources.
Meteorologists say that Italy had one of its driest springs in 60 years and rainfalls in some parts of the country have been 80 per cent below normal. Rome had just 26 days of rain in the first six months of this year.
It's a disaster for agriculture in the country which has so far suffered 2 billion euro worth of damage. And if that weren't enough, Italy is also grappling with a series of forest fires which also need gallons of water in order to be brought under control.
The lack of water in Rome and beyond has lawmakers extremely worried. The governor of the Lazio region, Nicola Zingaretti, which includes the  Eternal City, spoke of the seriousness of the situation.
He said he has ordered no more water to be drawn from Lake Bracciano, which supplies some parts of the Italian capital, because the decreasing water levels pose a clear and present danger to the lakes' aquatic life.
As the soaring temperatures continue and the country prays for rain, Romans could well see water rationing as early as this week.