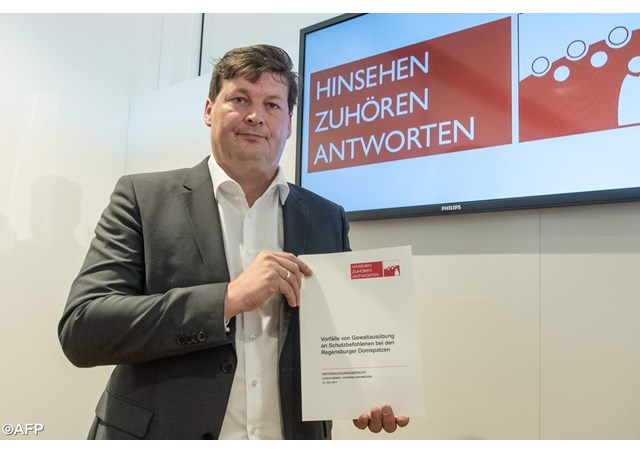 (Vatican Radio)  A new report has found that at least 547 young members of the Regensburger Domspatzen boys choir in Germany were subjected to physical and in some cases sexual abuse.
The report accuses 49 members of the Church of carrying out the abuse between 1945 and the early 1990s.
The lawyer tasked with investigating the abuse Ulrich Weber spoke about the investigation during a press conference in Regensburg.
"The fact is this: it is likely that there are almost 550 victims, of these 67 were victims of sexual violence; There are altogether 9 accused of carrying out sexual violence against children... There have been cases of severe physical and sexual violence, which have always been prohibited.
Even physical violence, with rare exceptions, was forbidden even punishable in the era where the facts and our assessments are placed, and in any case not justified by the predominant mentality of the time... External institutions also have responsibilities ranging from "not paying attention" to the parents, to which the events were reported, which did not give enough weight (to children's accounts), and in this we acknowledge the violation of the duty of protection; But there are also shortcomings by the external control and oversight bodies: the board of directors who have the task of overseeing the establishment of state controlled institutions. In fact, according to our assessments, laws concerning school inspections and the protection of pupils in colleges were not adequately applied."