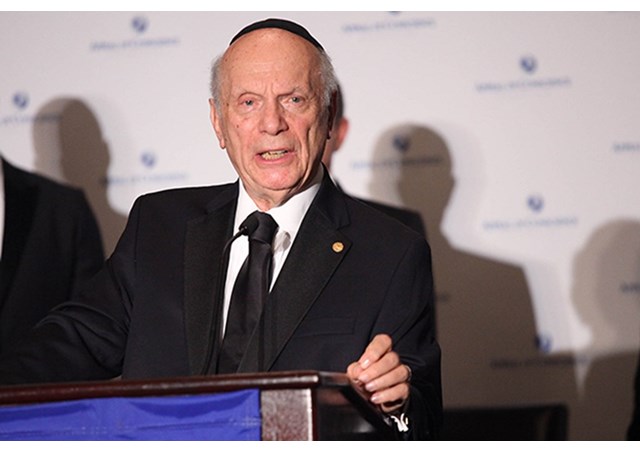 (Vatican Radio) For over half a century, the New York based Appeal of Conscience Foundation has been working to promote peace, reconciliation and interreligious cooperation.
The interfaith coalition of religious and business leaders was set up by Holocaust survivor, Rabbi Arthur Schneier in 1965. Since the 9/11 terrorist attacks, the foundation has rallied religious leaders worldwide to take a stand against terrorism, using their influence to halt violence and promote tolerance and mutual understanding.
A frequent visitor to the Vatican and friend of the past three popes, Rabbi Schneier is one of the few non-Catholics to receive a papal knighthood for his services to religious freedom and interreligious relations. He was back in Rome this week and shared his thoughts with Philippa Hitchen about the challenges of working for interfaith dialogue and cooperation today...
Rabbi Schneier notes that his with the Vatican date back to the days of Pope Paul VI, when he began working together with Church leaders on behalf of religious freedom and human rights, especially for those suffering from the effects of communist oppression.
As a Holocaust survivor, Rabbi Schneier says his greatest inspiration comes from former U.S President Roosevelt's 'four freedoms': freedom of speech and of worship, freedom from fear and from want.  They encapsulate, he continues, many of the challenges we're facing today.
Isolating the 'peace-wreckers'
Speaking of terrorists who are "misusing and abusing the name of God", he reiterates that "a crime perpetrated in the name of religion is the greatest crime against religion". Dialogue is vital to isolate those "peace-wreckers", he says, but it is only a beginning and must be followed by action and cooperation.
Scholarships for seminaries 
Rabbi Schneier sees the current increase in nationalism as a reaction to globalization: "you have a yearning for identity and that leads to a parochial, isolationist view". To combat this, his foundation has decided to provide scholarships for future religious leaders in theological seminaries,  to teach not just tolerance, but mutual respect and acceptance.
Identity and harmony
Illustrating the way believers can engage in dialogue yet "retain your faith and your identity", he uses the symbol of the rainbow,  which God placed in the sky following the flood. All seven colours are clearly recognizable and not diluted, he says, but they also harmonise.
Speaking of the threat of anti-Semitism, Rabbi Schneier says the "silent majority" must take a stand against extremism. Repeating a message he delivered following the Srebrenica massacre in Bosnia in 1995, he insists that "we cannot change the past" but "the present is a gift that we have to use in order to shape the future" and "that's the challenge each one of us has".