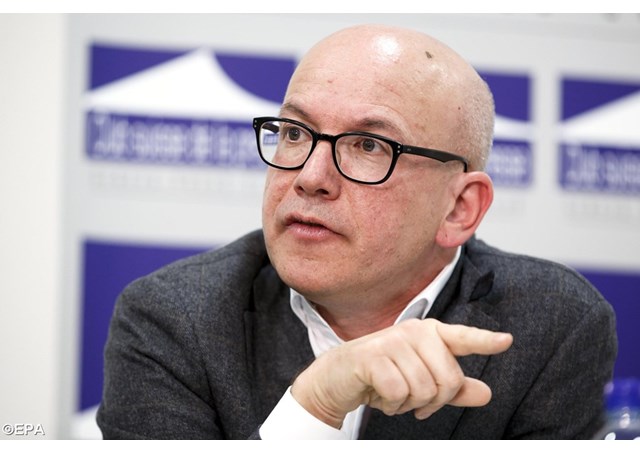 (Vatican Radio)  Christians and minorities in conflict areas of the Middle East are in need of protection, since religious communities are no longer able to live together in peace, according to the Director-General of the International Committee of the Red Cross, Yves Daccord.
In an interview with Vatican Radio, Mr. Daccord outlined the worst humanitarian crises in the world at the moment, saying climate change and third-party intervention have aggravated conflicts in Syria, Iraq, Yemen, Afghanistan, and Northeastern Nigeria, which have displaced millions in recent years.
Listen to the full interview:
Community separation leads to tensions
"The social fabric of the Middle East is being destroyed, and what happens in Iraq, Syria, or Yemen - for a different reason - is that different communities were able to live together, including minorities," Yves Daccord said.
He said what most worries him over the last few years is "a separation of the communities". This then leads to tensions and "pressures against minorities, like Christians, but also between Sunni and Shia [Muslims]".
Mr. Daccord called on all parties to keep communities from seeking revenge or engaging in ethnic cleansing.
"We need to remind all state parties to a conflict that their first responsibility is to care for civilians, starting with minorities."
Worst humanitarian crisis: Yemen
He said one of the worst crises in the world today is the situation in Yemen.
The health system there, he said, is a good example because the Red Cross recorded 150 attacks against hospitals in 2015. 
"It's no surprise today that the system is so weak that it can't absorb shock, and then you have a cholera crisis". 
Mr. Daccord said this merely compounded the already-dire humanitarian disaster. "People have little-to-no food anymore. All food comes from the outside."
Root causes
When asked about the causes of the crises in Yemen, Syria, Iraq, Afghanistan, and Northeastern Nigeria, Yves Daccord said there is a "juxtaposition of problems".
One, he said, is climate change.
"We always forget, but Syria had clear climate change issues long before the war, where rural people had to leave to go to town."
Another, according to Mr. Daccord, is the intervention of third parties.
"All of them are internal conflicts which have become internationalized. They are first and foremost conflicts between people and their government, and then suddenly other powers come in, either directly or through proxy, which makes it extremely complex for the people and extremely complex for humanitarians to intervene."