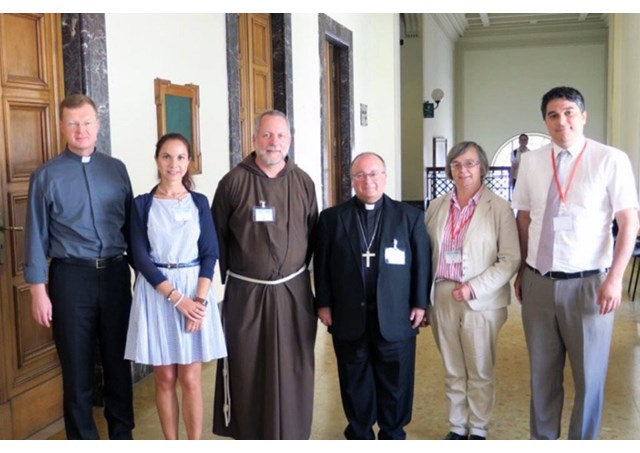 (Vatican Radio) A traumatic tale of five children, sexually abused by their father, formed the centrepiece of an international child protection conference that concluded at the Pontifical Gregorian University on Thursday.
The annual Anglophone Safeguarding Conference brought together 111 delegates from bishops conferences and religious congregations around the world to discuss ways of 'Celebrating Hope' for survivors of abuse, for those working in child protection, and even for the abusers themselves..
The conference was organised by the bishops conferences of Scotland and Malta, together with the Gregorian University's Centre for Child Protection, which has pioneered training in all aspects of safeguarding in the Church.
To find out more, Philippa Hitchen spoke to one of the principle organisers, Tina Campbell, who serves as national safeguarding coordinator for the Catholic Bishops' Conference of Scotland
Listen:
Tina recalls the 2016 conference, co-hosted by England and Wales, together with Kenya, on the theme of listening to survivors of abuse.  During that meeting, she says, the theme of hope emerged as a key question for those working in safeguarding, which "can be extremely demanding and sometimes might feel hopeless".
Hope for survivors
She recalls her first meeting with the Reid family members, who spoke about their experience at the hands of their abusive father. She invited them to talk to clergy and member of religious orders in Scotland and then asked them to give a keynote presentation to the Rome conference. A Protestant family from Northern Ireland, the Reids now all work as psychotherapists, some in the field of child protection. They symoblise in a powerful way, she says, the possibility of recovery and bringing hope to others.
Hope for abusers
The question of hope for abusers, Tina admits, is a difficult concept for a survivor, and for some perpetrators too. Many of them have criminal convictions, have been jailed and have been rejected by their families, so there's "very little light in that darkness of the life of a perpetrator". It is very difficult to get inside the world of someone who finds children sexually attractive, she says, so it's a challenge to give to walk alongside them and try to give them a sense of hope.
Honesty and accountability
Tina says that sadly "we will always have people who'll want to harm children and the vulnerable". But she notes there is a "greater awareness of accountability in the Church" and a greater ability for people to talk about the problem with honesty and transparency. "There can be no longer any idea that cover up or concealment is loyalty to the church," she says.