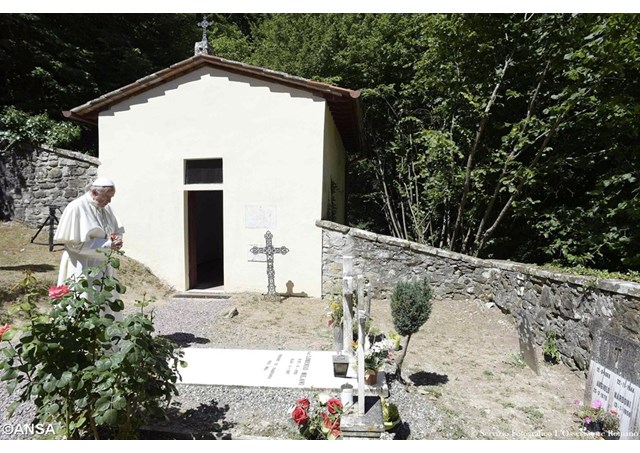 (Vatican Radio)  Pope Francis on Tuesday visited and prayed at the tomb of Don Lorenzo Milani, an Italian priest and educator from the Diocese of Florence, and spoke to the faithful present for his visit in Barbiana.
Calling Don Milani a "priest who was as transparent and hard as a diamond", Pope Francis reflected on his life and legacy as an educator in the northern Italian city of Barbiana from 1954 until 1967.
The Pope said he wished to pray at his tomb "in order to pay homage to the memory of a priest who witnessed to how, in the gift of self to Christ, we discover our brothers and sisters in their moment of need, and we serve them".
He told the people of Barbiana that they were "witnesses to his passion as an educator and his desire to reawaken the human aspect in persons in order to open them to the divine."
The Holy Father said education for Don Milani was the concrete expression of his priesthood.
"[He sought] to give back the word to poor people, because without language there is neither dignity nor freedom and justice."
Pope Francis went on to thank all educators for their "service towards promoting the growth of new generations, especially those who find themselves in uncomfortable situations."
He said Don Milani's educative drive was born of his priesthood, which in turn was born of his faith. "His was a totalizing faith, which allowed him to give himself completely to the Lord".
Turning to the priests present, Pope Francis invited them to be "men of faith" and to "love the Church and make her loved by showing her to be a mother for all, especially for the poorest and most fragile".