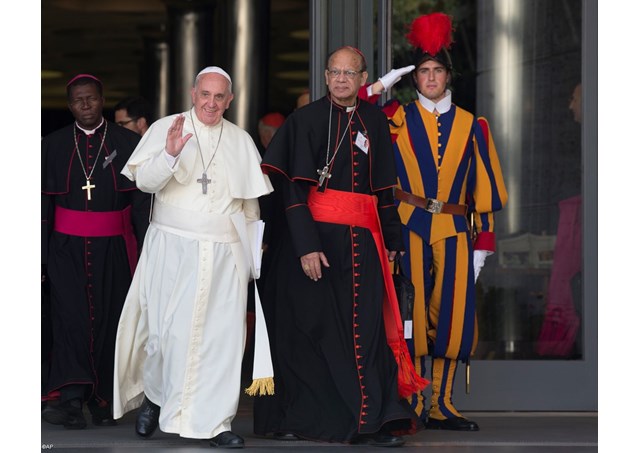 It is very likely that the visit of Pope Francis to India and Bangladesh planned for the end of this year, could be postponed to next year, a prominent Indian Catholic Church leader said on Thursday.  In an interview to National Catholic Reporter (NCR) on June 15, Cardinal Oswald Gracias, Archbishop of Bombay said that discussions with Prime Minister Narendra Modi's government about a papal visit this year have taken longer than expected. 
"I am beginning to lose hope about 2017," said the cardinal who is the president of both the Latin-rite bishops' group, the Conference of Catholic Bishops of India (CCBI), as well as the  Federation of Asian Bishops' Conferences (FABC).  "We are already in June. Even if they suddenly say, 'Come,' it is a pastoral visit ... [it] will take several months for the dioceses to prepare the people," Card. Gracias said.  "It should not just be a flash in the pan, he comes and goes," he said, explaining that when Pope St. John Paul II visited India in 1999, the Indian bishops "planned for almost a year before he came to make it effective."
Pope Francis first hinted about a possible visit to India and Bangladesh in 2017 during and in-flight press conference on October 2, 2016, while returning from a visit to Azerbaijan.  Again in an interview to German weekly Die Zeit in March, the Pope spoke about his visit to India and Bangladesh, without giving dates.  Earlier, Bangladeshi Cardinal Patrick D'Rozario had told reporters that given the weather conditions of Bangladesh, October-November would be ideal for a papal visit.  
Second papal visit to be postponed this year
The India-Bangladesh visit would be the second papal visit to be postponed this year, after that of South Sudan.  Originally planned for autumn this year, the Vatican confirmed on May 30 that the visit to the war-torn African nation wound not  take place in 2017.  South Sudan's deteriorating security situation obviously appeared to be reason.
Card. Gracias told NCR that working with the Indian government to prepare the papal visit has been "a little bit of ‎a difficult situation" as Modi's calendar has been filled up with state visits from other leaders.‎  ‎"We have to find a good spot where we can give the Holy Father his due importance and respect," Card. Gracias ‎said.‎  (Source: NCR)