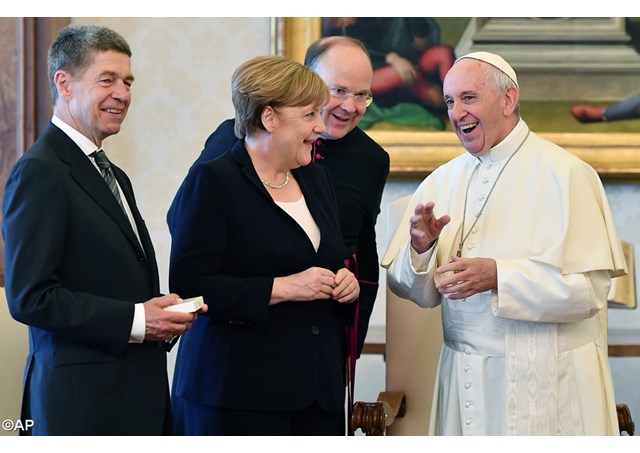 (Vatican Radio)  Pope Francis met with German Chancellor Angela Merkel and her husband on Saturday in a private audience at the Vatican Apostolic Palace.
A communique from the Holy See Press Office called their discussions "cordial" and said they spoke about "the good relations and fruitful collaboration between the Holy See and Germany".
"Issues of common interest were then addressed, with special regard for the upcoming G20 meeting in Hamburg, and the parties agreed on the need to dedicate special attention to the responsibility of the international community in combating poverty and hunger, the global threat of terrorism, and climate change."
During the course of their discussions, Pope Francis and Chancellor Merkel also recalled the "tireless efforts" of the late German Chancellor Helmut Kohl "in favour of the unification of Germany and the unity of Europe".
After meeting with Pope Francis, Chancellor Merkel met with Cardinal Pietro Parolin, Vatican Secretary of State, and Archbishop Paul Richard Gallagher, Secretary for Relations with States.
Listen to our report: