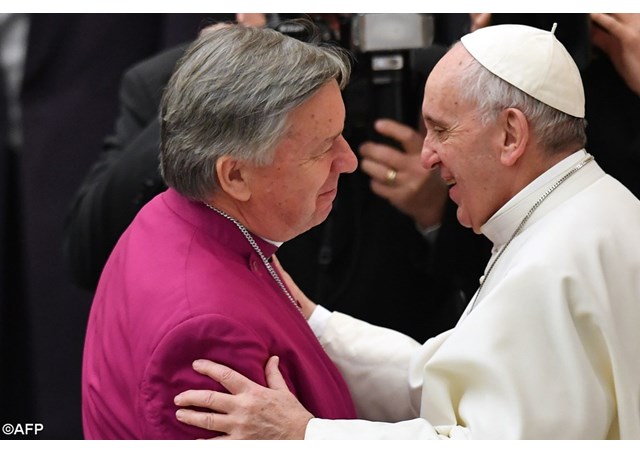 (Vatican Radio) Pope Francis met on Friday with the outgoing representative of the Archbishop of Canterbury and director of Rome's Anglican Centre, Archbishop David Moxon, who returns to his native New Zealand this week.
Moxon, who also co-chairs the Anglican-Roman Catholic International Commission (ARCIC), retires after four years in the hot seat of ecumenical relations here in Rome. He took over the job in 2013, just weeks after the inauguration of both a new pope and a new archbishop of Canterbury.
Looking back over the developments in Anglican-Catholic dialogue, Archbishop Moxon told Philippa Hitchen about the practical and spiritual progress he's witnessed, as well as about the crucial role of technology in keeping him connected to his family on the other side of the globe
Listen
David Moxon says he had the "great privilege" of being present at both Pope Francis' inaugural Mass and the enthronement of Archbishop Justin Welby in Canterbury. In that sense, he says, he  hit the ground running  - or as he prefers to put it, "hit the ground kneeling".
Growing intimacy between Anglicans and Catholics
Speaking of the achievements of the past four years, he talks first about 'spirituality', saying he's "encountered a growing intimacy […] between Catholics and Anglicans in Rome and around the world". Just at the point, he says, when "we thought there were obstacles that might divide us, we've experienced an embrace, a collaboration, a partnership at the practical level, and also at the liturgical and theological level, which has encouraged me enormously".
Breakthrough at liturgical level
Among the most significant events, he cites the recent celebration of Evensong in St Peter's Basilica, something he describes as "a remarkable breakthrough for us". He also mentions Vespers in San Gregorio al Celio in October 2016, where the pope and the Anglican leader signed a new common declaration, before sending out on mission together pairs of Anglican and Roman Catholic bishops.
Incremental theological progress
Regarding the theological challenges, Archbishop Moxon says there has been " incremental progress, not dramatic, not overnight, not revolutionary, but evolutionary" growth in mutual understanding and respect.
On the question of authority, he notes, the dialogue partners felt a lack of synodality on the Catholic side and not much international cohesion on the Anglican side. Over recent months, he says, that has begun to be addressed, as Catholics experiment with "a huge synodical process, while Anglicans are experimenting with international communality of a kind".
Even on the delicate question of the ordination of women, Moxon notes that Pope Francis has instituted a commission looking at whether Catholic women deacons may be considered for ordination or not, and "exploring the theology behind that".
Practical cooperation for justice and peace
On practical questions of collaboration for justice and peace, the Anglican archbishop says there has been major progress, with a network against slavery and trafficking producing a common multi-faith declaration, and now working as the Global Sustainability Network.  He also cites collaboration to support refugees and migrants, as Anglicans partner with St Egidio on their humanitarian corridors project.
Technology a 'lifesaver' for family in NZ
Discussing the challenge of working so far away from his wife, who heads Hamilton's primary health provider, and their four children, Moxon says technology has "been a lifesaver". Thanks to facetime and skype, he says he was able to "sit at my kitchen table" and talk to them each day. At the end of his term, he says he's "going back to be a hobbit in New Zealand", focusing firmly on "hearth and home, friends and family".
Ignatian and Franciscan spirituality
Asked what he will treasure most from his time in Rome, the Anglican archbishop speaks of "the impact of Catholic spirituality around St Ignatius, St Clare and St Francis, as I see it embodied in the pope". In order to understand this pontificate, he reflects, you need to understand Ignatian spiritual discernment, but alongside that "you get a Franciscan missiology", and a deeper exploration of that "will remain a personal and deep part of me to the end of my days", he says.