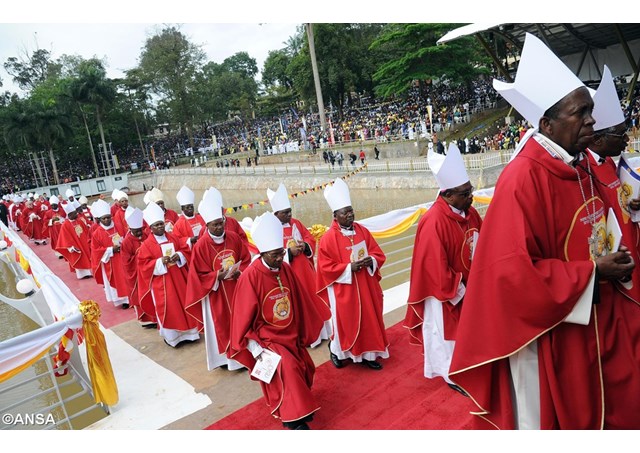 The Uganda Martyrs Day celebration has taken place at Uganda's Namugongo shrine. According to Uganda's Daily Monitor Newspaper, by 8 am all the pavilions where pilgrims sit were already full even though people were still trying to make the security clearances to get inside the shrine for the Mass. 
Some pilgrims arrived at the shrine six days ago in order to have an assured place at the arena.
Uganda's Bishop of Hoima Diocese, Vincent Kirabo whose Diocese is hosting this year's Martyrs' day was the principal celebrant at the Holy Mass.
Speaking during Mass, monitored on Uganda's NTV Youtube live stream, the Bishop invited the faithful to be faithful witnesses to the message of Christ just as the martyrs were.
"The Uganda Martyrs were ordinary people with admirable human qualities ... because of these qualities the were leaders at the Kabaka's palace," the Bishop said. He told the faithful that there is documented evidence that as Catechumens, the martyrs would sometimes forgo sleep at night to go the house of the White Father Missionaries to learn the Catechism of the Catholic Church.
The Bishop also announced that documents for the beatification of the White Father missionaries, that is Fr. 'Mapeera' Lourdel and Brother Amans who ministered to the Uganda Martyrs had been submitted to the Vatican.
The country's Vice President Edward Ssekandi is the guest of honour and was expected to give a speech later in the day.                     
Uganda's Martyrs Day, which falls on 3 June, every year commemorates the heroic faith of the 45 Martyrs, both Catholic and Anglican, who were burnt to death on the orders of Kabaka Mwanga II, then King of Buganda between 1885 and 1887. Twenty-two Catholic Martyrs were beatified on 6 June 1920, by Pope Benedict XV, and on 18 October 1964, Pope Paul VI canonised them as Saints.
(Emailo:engafrica@vatiradio.va)