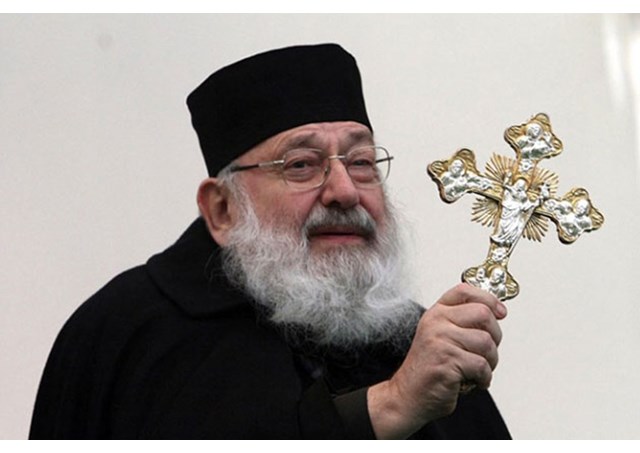 (Vatican Radio) His Beatitude, Cardinal Lubomyr Husar, Major Archbishop of Kyiv-Halyč, Ukraine, and head of the Ukrainian Greek Catholic Church, has died following a serious illness. He was 84.
Biography of LUBOMYR Cardinal HUSAR
H.B. Cardinal Lubomyr Husar, of the Ukrainian Studite Monks, Major Archbishop emeritus of Kyiv-Halyč, Ukraine, was born on 26 February 1933 in Lviv. Due to the war, his family fled to Austria and then to the USA. He was ordained for the Eparchy of Stamford for Ukrainians, USA, on 30 March 1958.
He taught in the seminary and was parish priest in Kehonkson, New York. After earning a doctorate in theology from the Pontifical Urbanian University, Rome, he joined the Studite Monks and was superior of the Studion in Grottaferrata, Italy. On 2 April 1977 he was ordained a Bishop by Cardinal Josyf Slipyj and on 23 July 1978 was named Archimandrite of Studite Monks residing outside Ukraine.
In 1994 he organized a new Studite monastery in Ternopil, Ukraine. On 22 February 1996 he was confirmed bishop and nominated to the titular church of Nisa di Licia. On 2 April of the same year, he was elected Exarch of Kyiv-Vyshhorod.
On 14 October 1996, the Synod of Bishops of the Ukrainian Greek Catholic Church elected him as Auxiliary of the Major Archbishop of Lviv. Following the death of Cardinal Myroslav Lubachivsky, on 25 January 2001 the Synod of Bishops of the Ukrainian Church elected him Major Archbishop of Lviv for Ukrainians. The Holy Father, Pope John Paul II, confirmed the election the next day. He was created and proclaimed Cardinal by the same Pope just one month later, in the consistory of 21 February 2001.
In June of 2001, Cardinal Husar welcomed Pope John Paul II to Ukraine, on the Polish Pope's first visit to a former Soviet republic.
On 6 December 2004, the Major Archbishopric of Lviv changed its name to Kyiv-Halyč, and was transferred to Ukraine's capital city. In April 2005, Cardinal Husar took part in the conclave that elected Pope Benedict XVI.
Cardinal Husar served as Major Archbishop until 10 February 2011, when his resignation was accepted by Pope Benedict XVI. He served at the same time (2001-2011) as President of the Synod of the Ukrainian Greek Catholic Church .
Memory eternal.