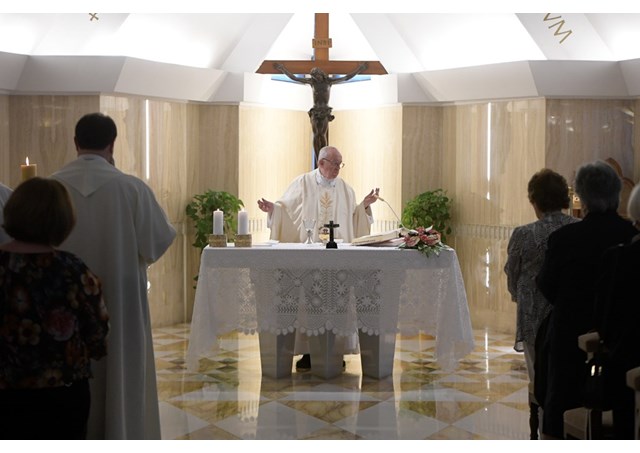 (Vatican Radio) The true shepherd knows how to step down from his church, because he knows that he is not at the center of history, but is a free man who has served without compromises and without taking control of his flock. That was Pope Francis' message during his homily at Mass celebrated on Tuesday in the Vatican's Santa Marta residence.
Listen to the report by Linda Bordoni:
"A shepherd must be ready to step down completely from his church, rather than leave in a partial manner" said the Pope.
His words were drawn from the first reading at Mass, where St Paul addressed the church leaders in Ephesus.  The Pope said that this reading could easily be called "A bishop's leave taking" because Paul has left the Church of Ephesus in order to go to Jerusalem, where the Holy Spirit called him to go.
"All shepherds have to step down. There comes a moment where the Lord says 'go to another place, come here, go there, come to me.' And it's one of the steps that a shepherd must take; be prepared to step down in the correct way, not still hanging on to his position. The shepherd who doesn't learn how to do this because he still has some links with his sheep that are not good, links that are not purified by the Cross of Jesus" said Pope Francis.
According to the Pope, St Paul had held a council with all the priests of Ephesus and during this council he had demonstrated three "apostolic attitudes."
The first of these is never turning back. The Pope said that this is the worst of all sins, to turn back. This is the thing which will bring much peace to the shepherd, when he remembers that he is not a shepherd who has led the church through compromising. Pope Francis admitted that this attitude requires much courage.
The second attitude is obedience to the Spirit, without knowing what will happen. A shepherd must know that he is on a journey.
The Pope said that Paul was a shepherd who serves his sheep.
"Whilst guiding the Church he had an uncompromising attitude, at that moment it was the Spirit who asked him to go on his journey, without knowing what would happen to him. And he went because he had nothing of his own, he had not wrongly taken control of his sheep. He had served them. Paul said 'Now God wants me to leave. I leave without knowing what will happen to me. I know only this - the Spirit had told him this - that the Holy Spirit had testified to me that trials and tribulations are awaiting me from city to city.' This was what he (St Paul) knew. That I am not retiring. I am going away to serve other churches. The heart is always open to the voice of God, I am leaving this place, I will see what the Lord is asking of me. This is a shepherd without compromises who is now a shepherd on a journey."
The third attitude is "I do not consider my own life to be precious in any way. I am not the center of history. Whether it's large history or small history, I am not the center, I am a servant" said the Pope.
"With this most beautiful example, let us pray for our shepherds, for our parish priests, our bishops, the Pope, that their lives will be lives lived without compromise, lives on a journey and lives where they do not believe that they are the center of history and have learned how to step down. Let us pray for our shepherds."