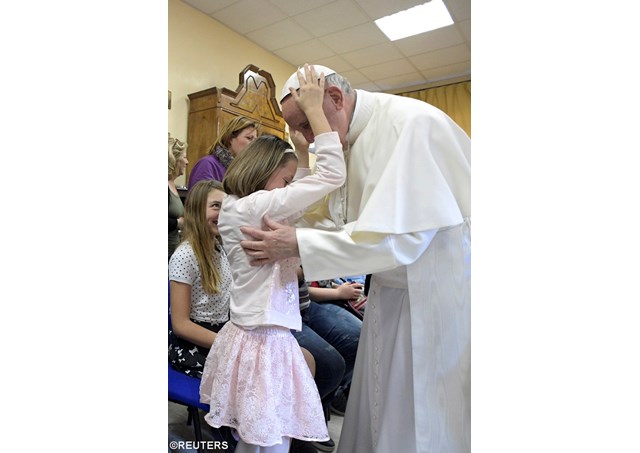 (Vatican Radio) Pope Francis on Sunday marked World Communications Day appealing for a culture of constructive information at the service of truth.
The Pope was speaking to those gathered in St. Peter's Square for the Sunday Regina Coeli. He noted that today's means of communication offer the possibility of instantly sharing news across the world.
"News can be good or bad, true or false; let us pray so that communication, in all of its forms, be effectively constructive, at the service of truth, may it reject prejudice and spread hope and trust in our time" he said. 
In fact, "Stem the spiral of fear, reject prejudice towards others and foster a culture of encounter" are the words are at the heart of Pope Francis' message for the Church's 51st World Communications Day, celebrated by Catholics each year on the Sunday before Pentecost.
The theme, chosen by the pope this year is 'Fear not, for I am with you: Communicating Hope and Trust in our Time,' encouraging all people "to engage in constructive forms of communication" and help others "to view the world around us with realism and trust".
Listen to our report: 
In his message, Pope Francis highlights the need to break the vicious circles of anxiety and fear – not ignoring the tragedy of human suffering, nor being naive and "blind to the scandal of evil".Rather, he urges all communicators to work at overcoming feelings of discontent, resignation or pessimism by focusing on positive solutions to today's problems.
Christians, the Pope notes, are called to interpret history through the Good News of Jesus himself. All of us can change the way we look at life's events, he said, by learning to "read reality" through a lens that inspires confidence and hope.
To find out how this papal message has been received by secular journalists, Alessandro Gisotti spoke to CNN's Vatican Correspondent, Delia Gallagher.
She says the message is not simply about choosing between "good news or bad news" but rather about "bringing in different angles" She gives an example about reporting on immigration, not focusing solely on the challenges, but also by reporting on stories of immigrants who are successfully assimiliating into their communities, 
Gallagher says Pope Francis is a man who "understands the power of the image" and uses his encounters with individuals, such as his meeting with a blind girl in Rome recently, to reinforce his official teachings.By "walking the talk", she says, he is able to "get the message across".