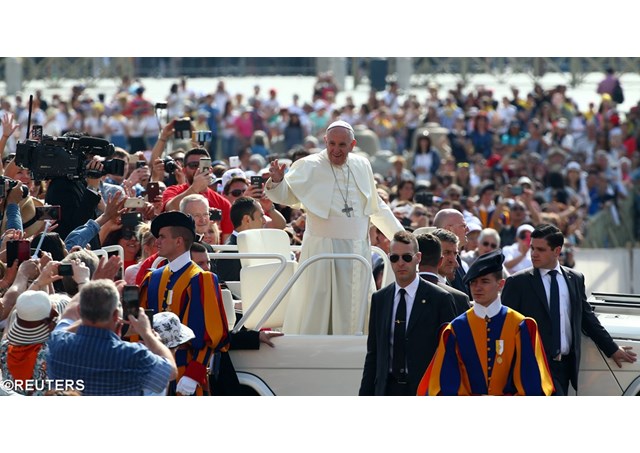 (Vatican Radio) Pope Francis has told pilgrims that God walks with us always, "even in the most painful moments" of our lives as he did with the disciples on the road to Emmaus. 

Pope Francis continued his series of reflections on Christian hope at his Wednesday General Audience shortly after his meeting with US president Donald Trump. The Pope spoke about the disciples' meeting with Jesus on the Road to Emmaus, in Luke's Gospel, as "a journey of hope". 

He told pilgrims gathered in St Peter's Square that Christians today are a bit like those two disciples: so often we find ourselves "a step away from happiness" but then experience sadness and disappointment.
The Pope said Jesus' accompaniment of the two disciples shows a "therapy of hope" which "gradually opens us to trust in God's promises". Hope, the Pope said, is "never a small price" to pay and always involves defeats and sufferings. However, walking with the disciples in a discreet way, he said, Jesus is able to rekindle their hope.

Pope Francis explained that it was only when the disciples witnessed Jesus breaking the bread that he is revealed to them as the Risen Lord, who is present in their midst. This, the Pope said, "shows us the importance of the Eucharist in which, like the bread, Jesus 'breaks our lives' and offers them to others".

Noting how the disciples return to Jerusalem after their encounter with the Risen Lord to proclaim the good news, the Pope said that "we too are sent forth to encounter others, to hear their joys and sorrows, and to offer them words of life and hope, based on God's unfailing love."

"All of us," the pope said, have had difficult and dark times, when there is "just a wall in front" of us. But "Jesus is always beside us to give us hope, warm our hearts and say, "Go forward, I'm with you. Go forward."
Listen to Richard Marsden's report here: