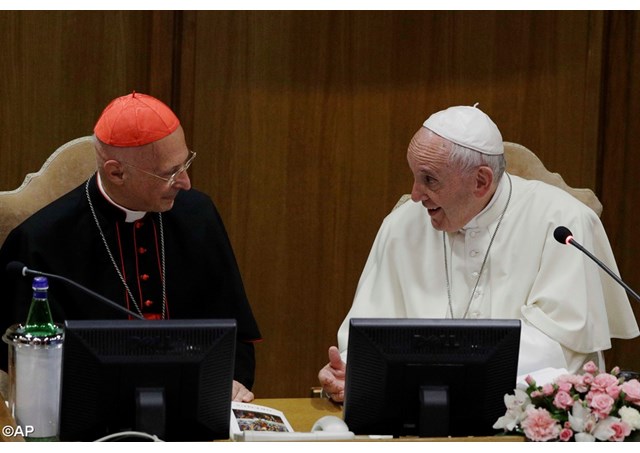 (Vatican Radio) Pope Francis on Monday afternoon met with Italian Church leaders who are holding the 70th General Assembly of their bishops' conference.
The meeting began with a brief introduction from the outgoing President of the conference, Cardinal Angelo Bagnasco. After that, the Pope greeted the bishops during a session, open to journalists, in the Vatican Synod Hall, before continuing the meeting behind closed doors.
On Tuesday the bishops will elect three names which will be forwarded to the Pope to select a new president for the conference. They will then proceed with discussions on the main theme for this assembly, which is focused on an effective evangelization of young people. 
On Wednesday the bishops will celebrate Mass in St Peter's Basilica and on Thursday they will hold a concluding press conference in the Paul VI audience hall.
After a brief speech of greeting during which Pope Francis thanked Cardinal Bagnasco for his ten years of service and for  his patience as, he said "it is not easy to work with this pope," the bishops were handed prepared remarks by the Pope who, as he often does in such occasions, made it immediately clear he wanted a frank and open exchange with them behind closed doors.
Apologizing to all the others present Pope Francis said his face-to-face with his brother bishops represented an important and private moment of encounter, and he pointed out that "when dialogue is stifled, gossip is sown" so, he said, it is important to enter into true dialogue even when it means listening to opinions that one may not agree with, but, he stressed "it's important to be able to speak in freedom". 
Cardinal Bagnasco reflected briefly on one of the fundamental themes of the Assembly: young people's formation.
"Their conditions of life, Bagnasco said, their capacity for sharing and building a future are an urgent reminder to us of our educational responsibility and witness; meeting them helps us to rediscover, every day, the primacy of God in our lives to be able to think and take action in freedom that is born from truth."
And regarding the choice of his successor, Cardinal Bagnasco made assurances regarding the firm will of every one present to support and sustain whoever is chosen for the benefit of our Churches.