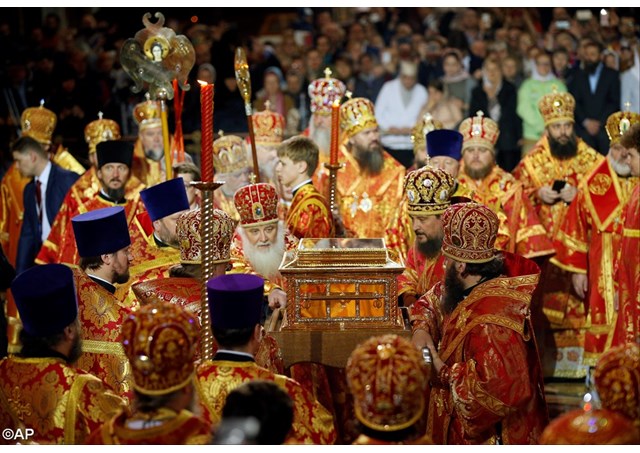 (Vatican Radio) For the first time in nearly 1,000 years, the major relics of Saint Nicholas, one of the Church's most revered figures, are travelling outside of Italy. The relics were transported to Russia, one of many countries that has a particular devotion to the Saint.
Huge crowds of believers, both Catholics and Russian Orthodox, are expected to venerate the relics. The historic move follows talks between Pope Francis and Patriarch Kirill.
Listen to Stefan Bos' report:
After reaching Moscow's Vnukovo airport, a glass-topped metallic ark bearing the relics was visited by a long stream of Russian pilgrims who bowed and kissed the container.
It was to be taken to Christ the Savior Cathedral, the enormous Moscow church that is a reconstruction of a cathedral dynamited in 1931 by officially atheistic Soviet authorities.
Earlier, the relics of Saint Nicholas were brought into the crypt of the Saint Nicholas Basilica in Bari, Italy, before their 3,000 kilometer-long journey to Moscow. It marks the first time in some 10 centuries that the [major relics] of the man who became the inspiration of the legendary figure of Santa Claus were moved from their resting place.
CHURCH BELLS
In Moscow churches rang their bells on Sunday to mark the relics arrival. They were sent to Russia after last year's agreement between Pope Francis and Patriarch Kirill during the first meeting of the heads of the Roman Catholic and Russian Orthodox churches.  
The 4th-Century Saint Nicholas was the Bishop of Myra, now the Turkish city of Demre. After his death, Italian merchants brought his body from Myra, in modern-day Turkey, to Italy.
The relics are to be displayed in Moscow's Christ the Savior cathedral until mid-June. They will then be moved to St. Petersburg, Russia's second largest city, before being returned to Bari on July 12. Both cities are expecting huge crowds of believers to visit the relics, and the Moscow patriarchate has already described it as "an unprecedented event."
It is also appreciated by Russian President Vladimir Putin who keeps close ties with the Russian Orthodox Church. He already visited the St. Nicholas relics in Bari in 2007.