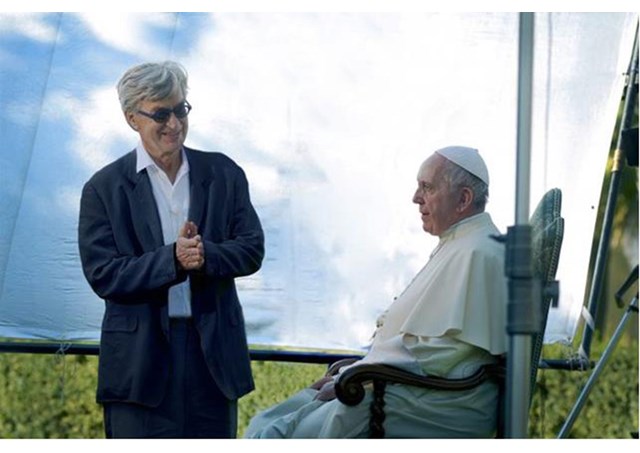 (Vatican Radio) Pope Francis will be the first Pope to participate personally and feature as protagonist in a documentary film.
The announcement was made at the prestigious Cannes Film Festival by film producer "Focus Features" that said it had acquired worldwide rights to "Pope Francis – A Man of His Word."  
The film, directed by film director Wim Wenders, is a co-production with the Vatican. A press release reveals it's only the second time the Vatican has collaborated with outside filmmakers and the first to grant direct access to a Pope.
Focus Features said the star film director is currently working the 'historic non-fiction' film, emphasizing that it is not a film about Pope Francis, but rather a film project with him.
It said it will feature Pope Francis in conversation, and discussing issues such as ecological responsibility, immigration, consumer behavior and social justice, addressing the audience directly.
The press release also said "it is a great exception in the history of the Vatican that the doors are opened to an external filmmaker so liberally. In addition to the privilege of talking to the Pope several times, Wim Wenders is given the opportunity to use exclusive material from the Vatican Archives".
As the film is currently in production, there is still no date set for its release.
Wim Wenders is a German filmmaker, playwright, author, photographer, and a major figure in New German Cinema. Among many honors, he has received three nominations for the Academy Award for Best Documentary Feature: for Buena Vista Social Club (1999), about Cuban music culture, Pina (2011), about the contemporary dance choreographer Pina Bausch, and The Salt of the Earth (2014), about Brazilian photographer Sebastião Salgado.
One of Wenders' earliest honors was a win for the BAFTA Award for Best Direction for his narrative drama Paris, Texas (1984), which also won the Palme d'Or at the 1984 Cannes Film Festival. Many of his subsequent films have also been recognized at Cannes, including Wings of Desire (1987), for which Wenders won the Best Director Award at the 1987 Cannes Film Festival.