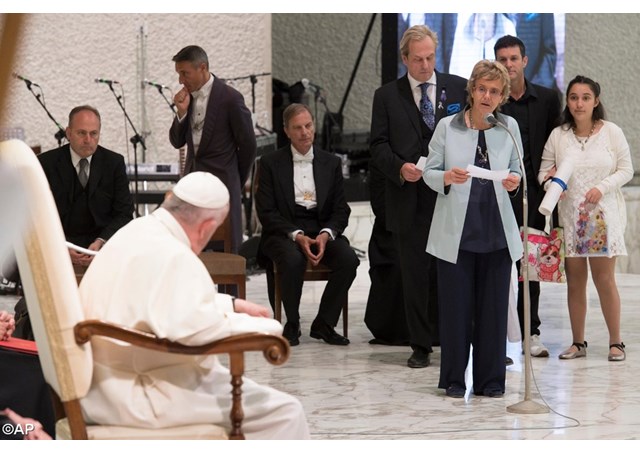 (Vatican Radio) Pope Francis welcomed hundreds of people who suffer from a rare degenerative neurological condition known as Huntington's Disease on Thursday in the Paul VI Hall, along with their families and caregivers, as well as research leaders and patient-advocates.
Click below to hear our report
Huntington's Disease is a genetic disorder that affects between 5 and 10 people per 100 thousand on average, worldwide – though the prevalence of the disease varies greatly from place to place, with the prevalence in much of Asia at 1 per 1 million, while in the Lake Maracaibo region of Venezuela the prevalence is as high as 700 per 100 thousand people.
The onset of the disease typically comes between 30 and 45 years-of-age, and often manifests through Parkinson's-like symptoms, though end-stage Huntington's usually involves full-blown dementia as well as severe physical disability.
Huntington's Disease has no cure.
In his remarks to Huntington's sufferers, their family-members, caregivers, researchers, and advocates on Thursday in the Paul VI Hall, Pope Francis said, "For far too long, the fears and difficulties that characterize the life of people affected by Huntington's Disease have surrounded them with misunderstandings and barriers, veritably excluding them."
The Holy Father went on to say, "In many cases the sick and their families have experienced the tragedy of shame, isolation and abandonment. Today, however, we are here because we want to say to ourselves and all the world: 'HIDDEN NO MORE!'"
Pope Francis promised the support of the Church to sufferers, saying, "May none of you ever feel you are alone; may none of you feel you are a burden; may no one feel the need to run away. You are precious in the eyes of God; you are precious in the eyes of the Church!"
The Holy Father encouraged researchers to continue their work, and called for concrete solidarity in this regard, in a manner consistent with the inherent and unalienable dignity of the human person.
"May the Lord bless your task," Pope Francis prayed, adding, "I encourage you to always pursue it with means that do not contribute to fuelling that 'throw-away culture' that at times infiltrates even the world of scientific research. Some branches of research, in fact, utilize human embryos, inevitably causing their destruction. But we know that no ends, even noble in themselves, such as a predicted utility for science, for other human beings or for society, can justify the destruction of human embryos."
Finally, the Holy Father expressed the hope that the lives of every person who suffers from Huntington's, and of those who work every day to support the sick in their pain and difficulty, be a living witness to the hope that Christ has given to all humanity.